Concert Review: Outlaw Festival at Hollywood Casino Amphitheatre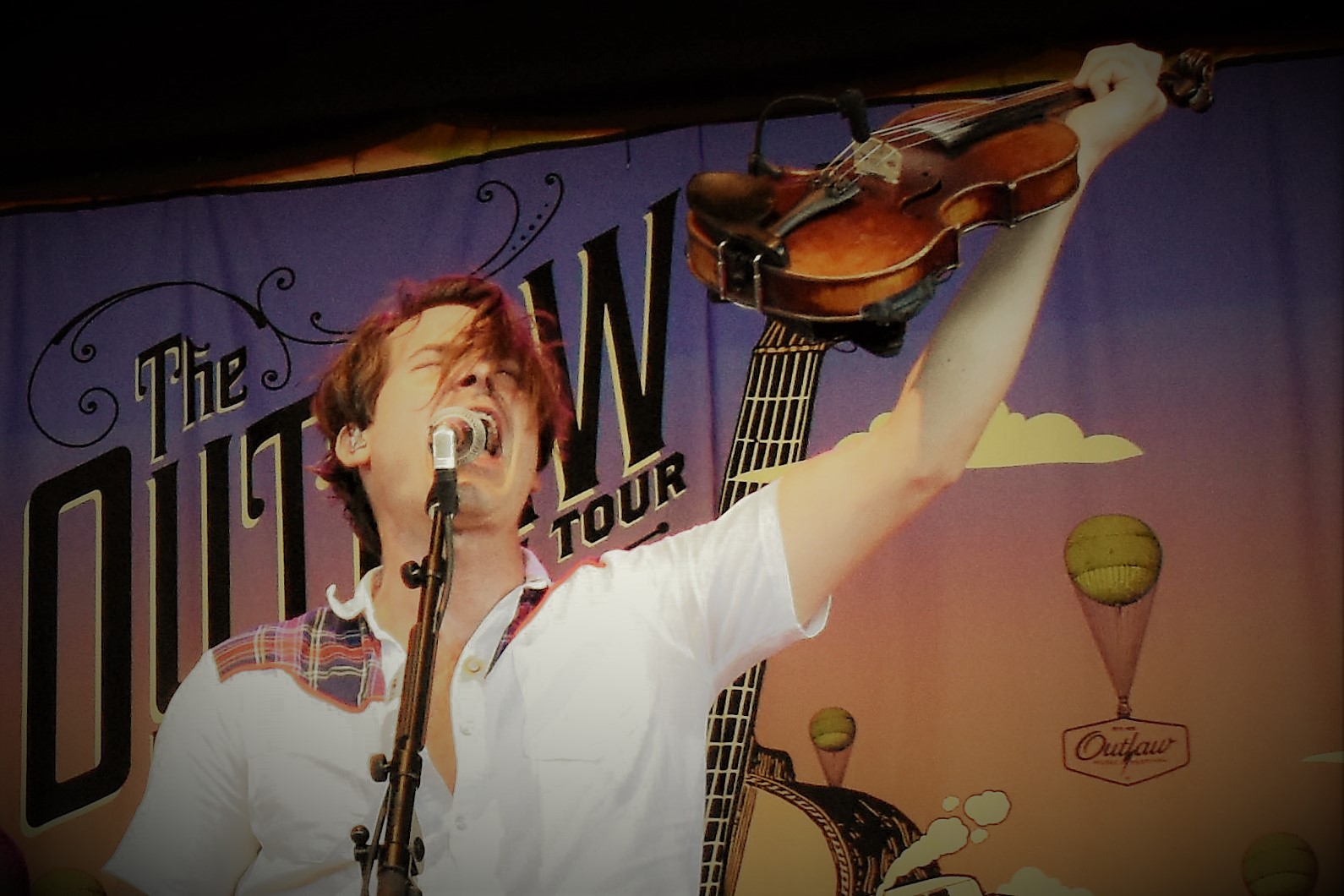 It was a sweltering day at Hollywood Casino Amphitheatre on Saturday for the 4th annual Outlaw Festival, featuring Willie Nelson and a slew of acts who are joining him on the road for different portions of the tour.
In true festival fashion, concertgoers casually arrived over the course of the day-long event and were greeted by fragrant patchouli, nag champa, and other scents of the herbal variety. (For further explanation, see list of new laws in Illinois.)
The vibe among the crowd was super chill and people appeared very laid back, soaking up the sun, and just taking it all in. The day was blessed with sunshine and music; the perfect combo.
Shooting With Annie
Attendance was still sparse when the show kicked off a little after 2:30 with local band, ​Shooting WithAnnie.​
The group is comprised of musicians from local heavy-hitting bands,such as ​El Monstero, Stir,​ and W​ hiskey Morning​ – just to name a few.
The handful of people who came early got, what I will confidently claim, the most rockin', solid performance by Shooting With Annie; second only to Willie Nelson. Of course this is my opinion as the writer of the review, but do not fret. There is plenty more love to go around for the other acts that took the stage during this stop in the tour.
As soon as the 9-piece group hit the stage, it was on. Based on their exuberant energy and passion fueled performance, they brought it all and left it all, setting the tone for those who followed.
Shooting With Annie​ is:
Guitar/Vox: Mike Flynn (Waiting For Flynn)
Guitar/Vox: Michael Eisenbeis (Fine To Drive, Whiskey Morning)
Bass/Vox: Kevin Gagnepain (Stir, El Monstero, Joe Dirt, Whiskey Morning) Keys: Jake Elking (El Monstero, Buz, John Henry, Graffiti Bridge)
Drums: Joe Meyer (Matt Hill and The Deep Fried Two, Craig Campbell, Javier Mendoza, The Incurables, et. al.)
Violin: Rachel Parkin
Trumpet: Adam Hucke (Funky Butt Brass Band)
Tuba: Cody Henry (Funky Butt Brass Band)
Sax: Bryan Fritz (Funky Butt Brass Band)
Shooting With Annie g​ ets an A+.
Dawes
Indie rockers, ​Dawes​, followed ​Shooting With Annie​ with a spirited 8-song set. Having seen Dawes only one other time, (back when they played LouFest in 2012) it was difficult to recollect if their rock show has always been of the caliber in which they performed at Outlaw. Lead singer/guitarist, Tyler Goldsmith, performed in a way for which he was telling a story. He performed with noticeable emotion and was well received by the multi-faceted crowd. The group opened with "Feed the Fire" off their latest album, ​Passwords​, and wrapped with an emotion-tugging, catchy number, "All Your Favorite Bands". (Side note: Even though I live for live music, I never buy concert t-shirts …until now. Thanks, Dawes.)
Dawes ​gets an A.
Old Crow Medicine Show
I'm way late to the game with this group. (First timer, here.) They've been around since 1998 and have shared the stage with other top Americana artists and bands, have won a Grammy Award, and were inducted as members into the Grand Ole Opry in 2017.
The group put on a super high-energy show, filled with Johnny & June-esque, lighthearted banter and a demonstrative stage presence. As cute as all of that seems (and it really was adorable), if you're not familiar with OCMS and you listen closely to their lyrics, you'll find that they are rooted in the simple life of stoners.
The band was on it, played incredibly well to the crowd followers and noobs, and brought a very upbeat and positive vibe to the house.
Old Crow Medicine Show g​ ets an A.
Alison Krauss
After a super, high energy set from OCMS, Alison Krauss donned the stage with elegance and grace. She appeared with her violin in hand and before the opening notes were hit, she captivated the audience with just her presence and audible sighs were heard from the crowd.
The stage was set like a backdrop from the old west and it fit perfectly with her organic, yet angelic delivery. Not only did she appear flawless, she sounded flawless.
After following OCMS – or, Apeshit on Adderall (I really do love you, Old Crows) – Kraus brought the energy level down a few notches with her essence-centered heartfelt sentiment in her music. Although I have a deep appreciation for Alison Krauss and was excited to see her on the Outlaw lineup, her placement within the lineup threw the dynamic and trajectory of the show off a little. However, one could argue that Old Crow brought too much energy to the day. Either way, there was a little bit of a lull when the change of tone and tempo hit.
Alison Krauss ​gets a B+.
Phil Lesh & Friends
The second to last band on this tour stop took me back personally to when the Grateful Dead played Riverport Amphitheatre in 1995. This was shortly before Jerry's death and was my first (and unknowingly) my last Dead show.
Lesh brought with him some Friends to round out the lineup who largely covered Dead tracks, a few of Jerry Garcia's solo works, and one Bonnie Dobson cover of "Morning Dew", joined by Alison Krauss. She also joined him on "To Lay Me Down". The collaboration of the beauty in their voices and harmonies on both numbers was chilling.
The band struggled with their sound for a lot of the set. The average concert goer likely did not notice and the band recovered seamlessly every time. Regardless, it was beautiful.
Since I know that all of you Deadheads appreciate setlists, here you go.
1. Jack Straw
2. Brown-Eyed Woman
3. Sugaree
4. To Lay Me Down (w/Alison Krauss)
5. Eyes Of The World
6. Help On The Way
7. Slipknot!
8. Morning Dew (w/Alison Krauss)
9. Cumberland Blues
Phil Lesh & Friends​ gets a B+.
Willie Nelson
Willie Nelson appeared on stage before a giant Texas state flag as a backdrop and to an enthusiastic welcome by fans of all ages. Always loyal to his beloved guitar, "Trigger", he handled her so delicately on stage as he has since 1969. Willie and "Trigger" resemble each other in the way that they both appear to have seen some shit, but keep pushin' along. A Deadhead once shared with me some profound wisdom, "Marijuana makes you live longer."
Willie played his set at a very steady rate with minimal repartee between songs. He treated the crowd with covers like Toby Keith's "Beer For My Horses", Waylon's "Good Hearted Woman", and Hank Sr.'s "Move It On Over", among so many others.
Willie played a duet originally done by Merle Haggard and himself called "It's Going All To Pot", which proved to be a crowd favorite judging by the singalongs and applause.
Willie brought a sense of calm, peace, and memories of a simpler time back to the forefront of the hearts and minds of spectators on Saturday night. Everyone was happy. Everyone was peaceful. Obviously, everyone was stoned.
Willie Nelson ​gets an A+.
I give ​The Outlaw Festival 2019​ 5 doobs.
Photos by Danya Artimisi.