"One" Cell Phone to Rule Them All? HTC One Pre-Orders Begin Today at AT&T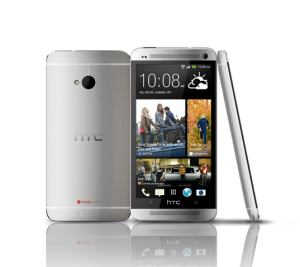 It's that time of year again, when the Heavyweights of Android unleash their monster phones. Similar to last year, the first one out the gate is HTC sporting their completely revamped One series flagship, simply branded as "The One".
But is it The One for you?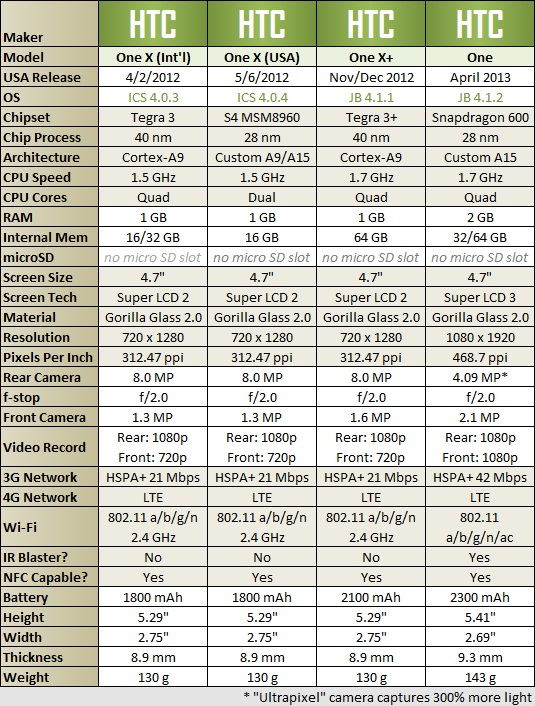 Specs are great and all, but you won't fool most people when you point out that the camera is only 4 megapixels. Most high-end smartphones are 8MP, some even going higher than that. Isn't 4MP kind of a downgrade? The trick here is that HTC is betting you'd trade larger filesizes for better low light performance. I would definitely agree that it would be a fair compromise for most users. Combine that with a sequel to the ImageChip found in the HTC One X (dedicated SoC for the camera) and a new Optical Image Stabilization feature, the One's 4MP camera seems poised to take on the competition.
The Megapixel Myth
Let's say that the number of megapixels actually mattered. The HTC One's camera will snap up shots at a resolution of 2688×1520. That's almost double the amount of pixels of 1080p HD. The latest iPad's are sporting 2048×1536 screens. So it's not going to look crappy on your other devices. If you wanted to print out a 5×7″ photograph down at your local drugstore, you'd only need 3.15MP to print at 300dpi. That leaves plenty of bleed-space for cropping. How much space does an 8MP .JPG file take up? Depending on compression, let's assume a 3.78MB filesize. That same image resized down to 4MP dimensions could take up 2.39MB of space. You just freed up 37% of your photo storage capacity. Same picture, same colors, smaller footprint. It'll also be 37% quicker to upload those 4MP photos to your social network of choice.
better than HD
better than Retina Display
better than a 5×7″ photo
takes up less storage space on your device
quicker uploads
eats up less data when sharing/sending
better low light performance
I'd say that's a win-win-win-win-win-win-win for the HTC One. The secret is within each pixel of your camera sensor. Their new "Ultrapixel" sensor has larger pixels, allowing each dot of your photo to pull in more light. Light is what makes us see, when it bounces off objects. Similar to opening your eyes wider or having a bigger catcher's mitt, these Ultrapixels will give you better photos. And how many of your photos have been ruined by poor lighting? HTC One saves the day!
Another camera feature is their new proprietary "GIF" file format called "Zoe's". When you capture a Zoe, it's a 3-second video clip that comes out to 20 frames: five frames before you press the shutter and then 15 frames when you release the shutter button. You can crop and chop as you see fit to create only the best Zoe's to share with your friends.
Lastly, HTC seem to have taken a page out of the BlackBerry playbook (pun not intended but left in for being so dang clever) and added a time-scrub option for photo taking. Say you're taking a photo of a bunch of friends and one of them blinked. You can zoom in on that person's face and "scrub" back and forth to different moments before and after the picture was taken to choose a frame where their eyes are open. HTC to the rescue!
Borrow from BlackBerry, Steal from Samsung
Who knows who came up with the idea first, but both the HTC One and the upcoming Galaxy S 4 have IR blasters built into the phone. Now you can download apps that change the channels/volume on your TV. You could take it another step further and setup an NFC tag on your coffee table that turns on your TV whenever you set your phone down. That's vooodoo.
Front-Facing Speakers… FINALLY
Tired of putting your phone down on a table or cupping your hands to hear your phone? Hrm, if only there was a way to point the speakers toward your ears. HTC One saves the day again! Yes, they put the speakers (yes, stereo… not just one speaker) on the front of the device. Music, movies, games… no more muffled audio. HTC also enhanced the output of the headphone jack, wiring up a 2.55V amplifier and calling the upgrade "BoomSound".
Simplified Sense
HTC has made a big leap in their own custom features on their Android handsets by re-styling HTC Sense down to a more modern and flat feel, something that Apple is looking into doing for this summer's release of iOS7. HTC even cut the number of buttons down to two: Home and Back. First the dedicated Search was killed off when they released the One X, and the Menu button was replaced with a Multitasking button. Now that's gone as well, directing users to double-tap the Home button for Multitasking and long-pressing it to bring up Google Now.
If you're a fan of RSS Feeds, HTC also decided to give the One some simplicity in how you access your information. This one leans towards Microsoft's Windows Phone 8 by having updating "tiles" of info. They call this feature "Blinkfeed". Kind of like Flipboard for your homescreen.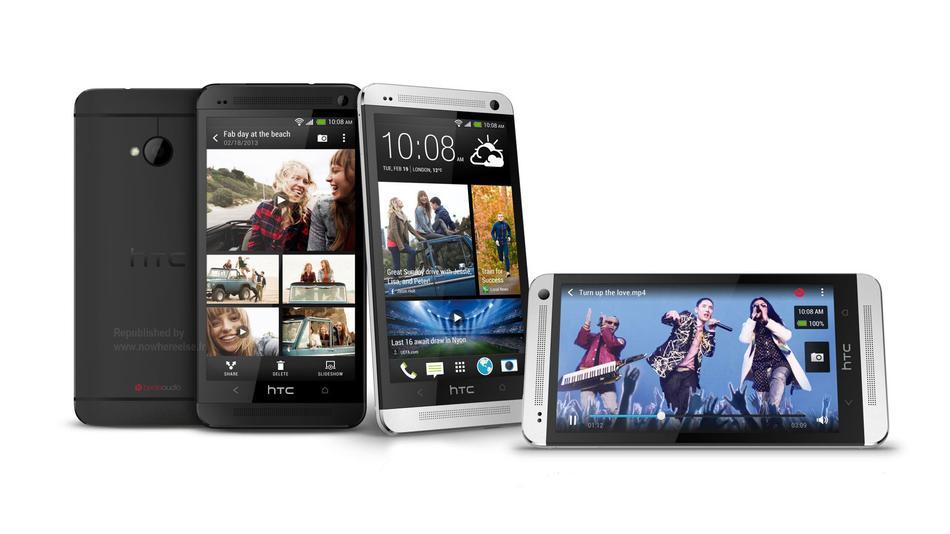 Where Can I Buy One?
AT&T: preorder now, phone arrives April 19th, $200 (2-yr contract) for 32GB model, $300 (2-yr contract) for 64GB model exclusive to AT&T only, and they'll throw in a free Media Link HD accessory to wireless stream from phone to HDTV, 32GB model is $600 off-contract and 64GB is $650 off-contract
T-Mobile: sign up for preorder notification, 32GB model only, $100 plus $20/month payments for 24 months, get a free car kit as a preorder bonus, $580 off-contract pricing
Sprint: pre-register now, preorders should begin sometime tomorrow, phone arrives April 19th, only offering a 32GB for $200, no preorder bonus announced
Verizon: no One availability announced… they'd rather you buy the HTC Droid DNA instead