Once in a "Blue Moon" – New Years 2010 Celebration and a Limited Edition Brew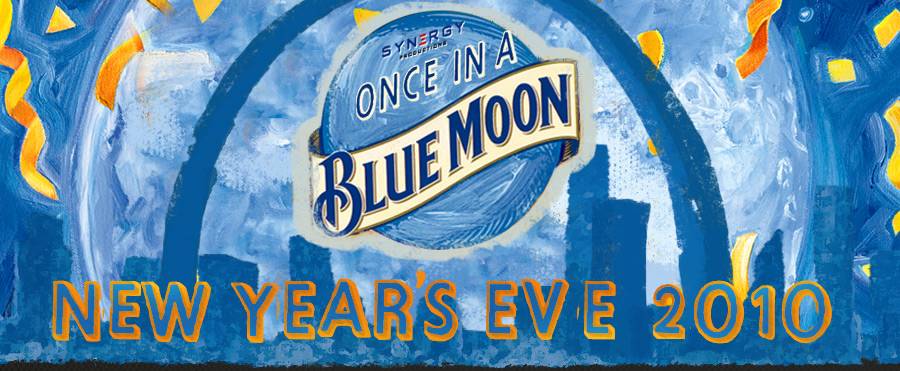 A "Blue Moon" is the second full moon that occurs in a month. It happens only once every two years. It is even more rare for a Blue Moon to fall on New Year's Eve, which hasn't happened in twenty years – until 2009! In honor of this rare occurrence, The Blue Moon Brewing Company decided to brew a limited-batch twist on a St. Louis favorite. Incorporating subtle hints of orange peel and coriander, with a warm and spicy finish, it is called Blue Moon Grand Cru.
On New Years Eve, Synergy Promotions is throwing a party downtown at the St. Louis Hyatt Regency. Tickets are still available at synergystl.com an include: decadent food, a premium open bar, great music, and delicious deserts.
If you're planning your own party, Blue Moon has you covered! Plan your own Blue Moon New Year's Eve Party:
MUSIC – Blue Moon's Pandora playlist
FRIENDS – Blue Moon on Facebook
FOOD – Get recipes from CHOW.com
CHECKLIST – Download your party checklist!
… and don't forget to pickup Blue Moon Grand Cru to celebrate the occasion. HAPPY NEW YEAR 2010!
ENTER TO WIN A BLUE MOON PARTY PACK! Includes: a Blue Moon logo hat, classic Blue Moon t-shirt, set of 4 Blue Moon pint glasses, and a cool sleeve of Blue Moon beer coasters! To enter, leave a comment below with your New Years resolution! Winners will be chosen at random, and notified via e-mail.