Win Passes to "Book of Eli" at the St. Louis Advance Screening
ReviewSTL invites you to enter to win passes to the St. Louis advance screening of "Book of Eli"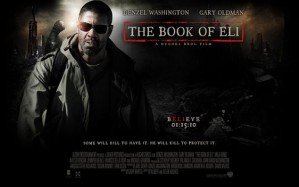 Enter for your chance to win a pass good for two!
OPENS NATIONWIDE FRIDAY, JANUARY 15TH
Synopsis:
In the not-too-distant future, some 30 years after the final war, a solitary man walks across the wasteland that was once America. Empty cities, broken highways, seared earth–all around him, the marks of catastrophic destruction. There is no civilization here, no law. The roads belong to gangs that would murder a man for his shoes, an ounce of water… or for nothing at all.
In order to enter the contest, simply leave a comment at the bottom telling us your favorite dystopian future (Blade Runner, Farenheit 451, etc.) . Winners will be chosen at random and notified via e-mail. NO PURCHASE NECESSARY.
Please note that winning passes to "Book of Eli" does not guarantee admission to the film. You must arrive early as seating is first-come, first-served. It is usually safe to arrive at least 1 hour or more before show time!