OK Go – This Too Shall Pass – Rube Goldberg Machine – Viral Video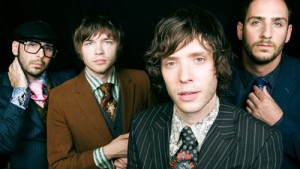 Viral Video kings, OKGo, have done it again. (Watch previous videos here.) This time they have done their second video for their song "This Too Shall Pass".  Although, this time it is a high complicated Rube Goldberg machine that took four months of planning to construct, and lots of run throughs to get it right.
Wikipedia explains the origins of the Rube Goldberg machine as:
Rube Goldberg's cartoons became well known for depicting complex devices that performed simple tasks in indirect, convoluted ways. An example on the right, is Goldberg's "Professor Butts and the Self-Operating Napkin", which was later reprinted in the postcard book, Rube Goldberg's Inventions!, compiled by Maynard Frank Wolfe from the Rube Goldberg Archives. The "Self-Operating Napkin" is activated when the soup spoon (A) is raised to mouth, pulling string (B) and thereby jerking ladle (C) which throws cracker (D) past parrot (E). Parrot jumps after cracker and perch (F) tilts, upsetting seeds (G) into pail (H). Extra weight in pail pulls cord (I), which opens and lights automatic cigar lighter (J), setting off skyrocket (K) which causes sickle (L) to cut string (M) and allow pendulum with attached napkin to swing back and forth, thereby wiping chin.
In 1931, the Merriam–Webster dictionary adopted the word "Rube Goldberg" as an adjective defined as accomplishing something simple through complex means
Hopefully OKGo keeps up the good work! I've seen them live twice now, and I'd like for them to stay popular enough to keep touring.