No Father's Day Plans? How about seeing a FREE MOVIE!?
THANK YOU TO EVERYONE THAT HAS ENTERED THE CONTEST. THE WINNERS HAVE BEEN NOTIFIED. FOR EVERYONE WHO DID NOT WIN, CHECK BACK TOMORROW – WE WILL BE HAVING ANOTHER CONTEST WHERE WE WILL BE GIVING AWAY PASSES TO THE SAME MOVIE IN 3D NEXT FRIDAY.
Thank you again. From everyone at ReviewSTL, we hope you have a HAPPY FATHER'S DAY!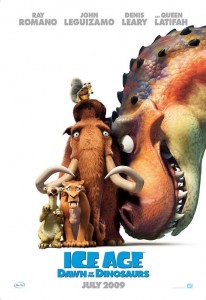 This Father's Day 2009, Fox is giving families a special present. There are 330 theaters around the country are going to be holding a special sneak preview of "ICE AGE: DAWN OF THE DINOSAURS," in 3D! What better way to spend Father's Day with the family?
Tickets are still available to be purchased at Fandango.
---
Check out the official release:
Families throughout the U.S. will have a special opportunity to check out the upcoming CGI-animated family comedy, "ICE AGE: DAWN OF THE DINOSAURS," at sneak previews held on Father's Day, Sunday, June 21, in 330 theatres across the country, exclusively in 3-D.
The sub-zero heroes from the worldwide blockbusters "Ice Age" and "Ice Age: The Meltdown" are back, in an incredible 3-D adventure. This time, they break through the ice to discover a whole new pre-historic world of dinosaurs. Manny prepares to face a new challenge – fatherhood – leaving Sid to feel left out of his friend's growing family. Determined to start a family of his own, Sid discovers three enormous eggs and decides to adopt the baby dinosaurs that soon hatch. ICE AGE: DAWN OF THE DINOSAURS has everything audiences loved about the first two films, but with even more comedy, action, fun, and spectacular visuals.
"ICE AGE DAWN OF THE DINOSAURS" opens wide everywhere Wednesday, July 1, 2009 and features the voices of Ray Romano, John Leguizamo, Denis Leary, Simon Pegg, and Queen Latifah. Directed by Carlos Saldanha and co-directed by Michael Thurmeier, the CGI animated family comedy was produced by Lori Forte and John C. Donkin and written by Michael Berg & Peter Ackerman and Mike Reiss and Yoni Brenner from a story by Jason Carter Eaton.
Detailed theatre information and showtimes for the sneak previews of "ICE AGE: DAWN OF THE DINOSAURS" are available at http://www.iceagemovie.com/sneak, or check you local listings.
About Fox Filmed Entertainment
One of the world's largest producers and distributors of motion pictures, Fox Filmed Entertainment produces, acquires and distributes motion pictures throughout the world. These motion pictures are produced or acquired by the following units of FFE: Twentieth Century Fox, Fox 2000 Pictures, Fox Searchlight Pictures, and Twentieth Century Fox Animation.