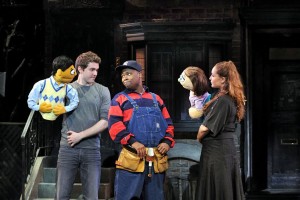 Nigel Jamaal Clark has to walk a fine line playing Gary Coleman in the national tour of Avenue Q. (Read all about Avenue Q here.) You see the character Gary Coleman is actually based on the real Gary Coleman. You know, the one whose catchphrase is still uttered ironically about the nation, What you talkin' bout Willis? However, Nigel insists that he serves as a great guide for the show because, "he's experienced a lot." That hasn't stopped the former Different Strokes actor from trying to sue the original production, for something he feels is an unrealistic portrayal.  Clark however laughs about it and says that, "nothing about the character is making fun of the real Gary Coleman. I try to portray him as a real character, and not a gag."
Nigel Jamaal Clark is continuing to make his mark in the musical world. The actor who grew up in Alaska started his musical career in 2006, and has since appeared in the national tours for The Spelling Bee, and has now made his way onto Avenue Q.  I had a chance to talk with the actor the other day a little bit about the musical, and his interest in the art. Things have changed quite a bit from being a high school football player from Anchorage, Alaska.  When asked about life on the road, Clark says he "loves it". I ask him if cast and crew get much down time, and he tells me, "We have a big day planned in St. Louis. Last time I was here, it was only for a night. I didn't really get to see much of the city. This time I should be able to explore it a bit more."
Clark is quick to talk up Avenue Q, and his love for the show which he says contains a lot of "heart". He says the show stopper is no surprise, the finale, which consists of a song called "For Now", which "really wraps the show up well, and hits on all the issues brought up in the show." While the show may have a lot of heart, that doesn't make the issues any less hard to deal with. "The show talks about some pretty intense issues. The song "Everybody's a Little Bit Racist" is one of those make or break moments for people."  Comedy might soften the blows for some people, but Clark says that doesn't make them easy to swallow.
Clark has the distinction of being one of three puppetless characters in the show. When asked if he is jealous that he doesn't get his own puppet, he laughs and says, "Those things are really tough. It's incredibly tiring keeping your arms up to work the puppet."
You can see Nigel Jamaal Clark and the rest of the cast of Avenue Q perform right here in St. Louis on April 30th to May 2nd at the Fabulous Fox Theatre. Come down and see the play that won three Tony Awards, and has received unanimous critical praise!