Nicholas Sparks' Dear John – Trailer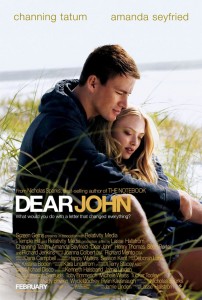 Dear Channing Tatum,
Are you about to show a good performance? After A Guide to Recognizing Your Saints I thought you had it in you, but your last few films have let me down so much. Luckily, you are paired with rising Amanda Seyfried who eclipsing her Mean Girls costars (I'm looking at you Rachel McAdams and Lindsay Lohan). It doesn't hurt that you are going to be under the direction of veteran director Lasse Hallström. That your father in the film is played by Richard Jenkins is just the icing on the cake. So, listen everything in this film should be going in your direction. Just like G.I. Joe Nicolas Sparks novels have their own built in fan base. I'm asking as someone who really thinks you might have it in you, please don't screw this up.
Thanks,
Blake
Genre: Drama
Starring: Amanda Seyfried, Channing Tatum, Richard Jenkins, Henry Thomas
Director: Lasse Hallström
Coming to theaters February 6, 2010.