Ian Somerhalder Headlines 'Cradlewood'
I love seeing old Losties get work, but I'm not sure how much I like Ian Somerhalder on CW's Vampire Diaries. If had to choose and actor that would go from a critically acclaimed show to teen fare though, it would probably be him (or Maggie Grace who appears to be making better role choices). It just seems like he has taken two steps back rather than two steps forward. Now he is signed on to do a gothic fairy-tale. So, it isn't too far out of what he is already doing, just a little less teen oriented (or so I hope).
From THR.com:
---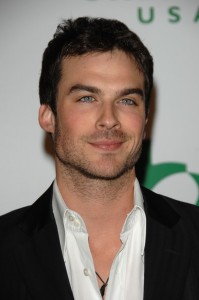 Ian Somerhalder, star of the CW's "The Vampire Diaries," has signed to topline the romantic gothic fairy tale "Cradlewood." Hand Picked Films and Instinct Entertainment are behind the indie being directed by Harry Weinmann.
The movie centers on an Australian woman living in Boston with the heir (Somerhalder) to an incredible fortune whose family history is swirled in a legend that tells of a pact made with a demon which ensures that whenever a boy is born into the family, the father is killed.
The heir suspects his girlfriend is pregnant, and after strange events occur, he comes to believe he will die if he continues to fall in love.
Emma Lung ("The Boys Are Back") will play the Australian woman.
"Cradlewood" is based on original story by Weinmann. Stephen Sewell ("The Boys") and John Paul Chapple ("Bathroy") wrote the script.
Michel Shane ("Catch Me If You Can") and David Redman ("Strange Bedfellows") will produce. Anthony Romano, Shana Levine and Dean Murphy will executive produce.
"We see this is as almost like an American-style 'Pan's Labyrinth' in look and feel," Shane said. "It's a perfect segue for the kids who have outgrown 'Twilight' but want something romantic and scary. Our monster will be quite terrifying; she is sexually attractive and monstrous at the same time."
The movie will take advantage of Down Under's 42% film-tax incentive, shooting Melbourne for Boston.
"Cradlewood" is eyeing production in April, during Somerhalder's hiatus from "Diaries." The actor, repped by Innovative Artists and Untitled Entertainment, also is known for his work on ABC's "Lost."
---
I really like it when productions claim to be a version of something like, "an American-style 'Pan's Labyrinth'". I think it sets the bar too high for a production that hasn't even started shooting. Also, when you have an untested director it isn't time to be making boastful claims. The concept seems good, and I really enjoyed Emma Lung in The Boys are Back. I've never been to Melbourne, but does it look similar enough to Boston?