New "Sex and the City 2" Trailer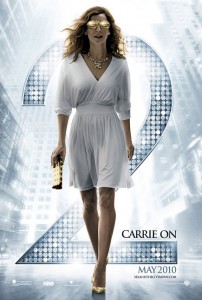 You can take the girl out of the city, but can you take the city out of the girl? Apparently not, if the new trailer for Sex and the City 2 is to believed. Carrie and the gang are back, and their relationship problems are just another excuse for them to promote high fashion and girl power! I've tried to get into the series, and the subsequent movie, but once again it is one of those things I can't get into. The whole thing feels superficial to me, and the characters are vapid, and bit unbelievable at times. Although, I can't say much because I watch Entourage, and that is basically a worse written male version of Sex and the City.
Synopsis:
The continuing story of Carrie, Charlotte, Miranda and Samantha as they struggle to manage their love lives, friendships and careers in New York City.
Starring: Sarah Jessica Parker, Kim Cattrall, Kristin Davis, Cynthia Nixon, Chris Noth
Directed by: Michael Patrick King
Produced by: Marcus Viscidi, Toby Emmerich, Richard Brener
Release Date: May 27, 2010