Awesome New "Saw 3D" Motion Poster and HD Teaser Trailer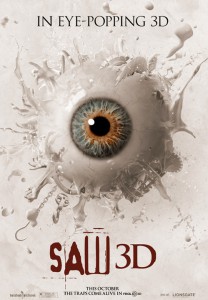 Just when you thought you were ready for SAW XXII to come out in theaters – think again. The "Saw" franchise is going 3D.
Set for a release date of October 22nd, 2010 (just in time for Halloween, as usual), the synopsis for the new 3D horror film is as follows:
As a deadly battle rages over Jigsaw's brutal legacy, a group of Jigsaw survivors gathers to seek the support of self-help guru and fellow survivor Bobby Dagen, a man whose own dark secrets unleash a new wave of terror…
This isn't the first time that a horror movie, or even the "Saw" franchise has used a motion poster and weird viral marketing to promote their movies. But I have to say, the 3D eyeball motion poster at the bottom of the page looks pretty awesome.
Check out the Pandorum motion poster here.
Here is the "Saw 3D" HD Teaser Trailer:
[hdplay id=75 width=595 height=375]
Check out the amazing new 3D motion poster for "Saw 3D"