Joss Whedon Confirms Jeremy Renner as Hawkeye in Marvel's "The Avengers"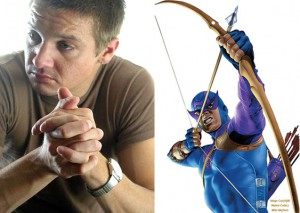 Well, yet another Avengers tidbit that has been rumored for a few months, that has now been confirmed at Comic Con. The Hurt Locker star, Jeremy Renner, will be playing the famous superhero archer, Hawkeye, in the forthcoming movie, The Avengers.
I'm actually pretty excited about this casting news.  I don't know why, but Renner just seems right for the role of Clint Barton, aka Hawkeye. Don't know if it is demeanor, but he just seems to fill the role nicely.
Check out what Whedon had to say below.
What do you think? Let us know in the comments!