New 'Romeo and Juliet' Remake Trailer Starring Hailee Steinfeld, Douglas Booth, Damian Lewis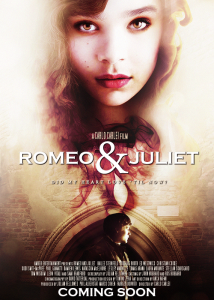 It is one of the most famous love stories of all time, told in numerous films throughout the 20th century. Romeo and Juliet is William Shakespeare's most well-known play, partially due to the amount of films that have been adapted from it.
In 1936, Romeo and Juliet starred Norma Shearer as Juliet and Leslie Howard as Romeo. John Barrymore (grandfather of Drew Barrymore) played Mercutio in the black and white film. Both 1954 and 1955 adaptions were released, followed by 1968's Romeo and Juliet starring Leonard Whiting and Olivia Hussey as the star-crossed lovers. That version remained the most popular version for almost three decades – until Baz Luhrmann's modern re-imagining Romeo + Juliet hit the scene in 1996.
Fast forward 17 years, and the world is ready for another Romeo and Juliet. The film stars Hailee Steinfeld as Juliet, whose breakout performance in True Grit made her famous, and Douglas Booth as Romeo. Golden Globe winner Damian Lewis is Lord Capulet, Stellan Skarsgård is the Prince of Verona, and Paul Giamatti is Friar Laurence. Gossip Girl's Ed Westwick stars as Tybalt (did you know he was British? Watch the video here).
Watch the trailer for Romeo and Juliet (2013) Below:

It is going to be hard to top Luhrmann's version of the classic story. This time around the filmmakers are going back to a traditional 14th century setting, so it will be a bit more like the 1968 version – but obviously much more current. The leads aren't extremely well know, but the supporting cast does include some big names. The question will be whether or not the title alone is enough to sell tickets.
Release Date: July 26