New "Prince of Persia: Sands of Time" HD Trailer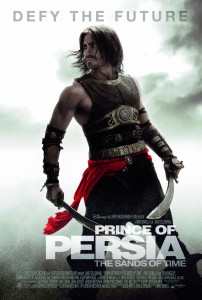 I'm still very skeptical about this film, but I feel that this trailer is leaps and bounds better than the first one they released. I'm really hoping it has the same kind of magic that the first Pirates of the Caribbean did. I went into that film not expecting a whole lot, because the trailer didn't look that great, only to be blown away by the whole experience. If this movie can pull of the same thing, I will be pleased. Although, to be honest this film doesn't have Johnny Depp doing an awesome pirate (that somehow got worse as each film progressed). It does have a lot of intense battle sequences, filled with acrobatics, and magic. So, all in all, it can't be too bad.
Gemma Arterton seems to be everywhere these days, with this and Clash of the Titans coming out within a couple of months of each other, she has the chance to become the female Sam Worthington, an actor who gets huge roles without much background. I'm still not sure about Jake Gyllenhaal in the role, it just doesn't seem to fit him.
Synopsis:
Set in 9th century medieval Persia, a young adventurous prince uncovers a dangerous artifact in a remote mountain kingdom and with the help of an enemy princess, must stop a despot from unleashing a sandstorm that could destroy all mankind.
Cast: Jake Gyllenhaal, Gemma Arterton, Ben Kingsley, Alfred Molina
Director:Mike Newell
Genres: Costume Adventure, Adventure
Release Date: May 28, 2010