New 'Iron Man 3' Trailer Starring Robert Downey Jr., Gwyneth Paltrow, and Don Cheadle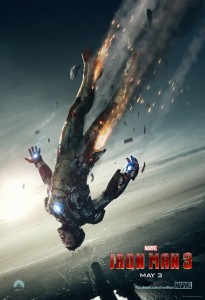 I was lucky enough to see the new Iron Man 3 trailer last night before a screening of The Great and Powerful Oz, but that doesn't mean I wasn't excited for it to hit the web today. It just hit and I've already watched it twice more to analyze certain elements within the trailer. If the trailer is any indication, they seem to have taken a step up from Iron Man 2. I'm trying not to get ahead of myself, because the trailers for Iron Man 2 were pretty stunning as well, but the final product let me down.
The biggest thing I noticed from the trailer was an increased sense of danger in Tony Stark's world. I'm not sure what happens, but I have a feeling that not everyone makes it through this installment. I'm hoping I'm wrong, but chances are they will want to show just how dangerous of a villain Mandarin is for Tony Stark/Iron Man.
What do you think of the trailer? Let us know in the comments!
Synopsis:
Marvel's "Iron Man 3″ pits brash-but-brilliant industrialist Tony Stark/Iron Man against an enemy whose reach knows no bounds. When Stark finds his personal world destroyed at his enemy's hands, he embarks on a harrowing quest to find those responsible. This journey, at every turn, will test his mettle. With his back against the wall, Stark is left to survive by his own devices, relying on his ingenuity and instincts to protect those closest to him. As he fights his way back, Stark discovers the answer to the question that has secretly haunted him: does the man make the suit or does the suit make the man?
Cast: Robert Downey Jr., Gwyneth Paltrow, Don Cheadle, Guy Pearce, Rebecca Hall, Ben Kingsley Jr.
Director: Shane Black
Release Date: May 3, 2013