New 'Clash of the Titans' Trailer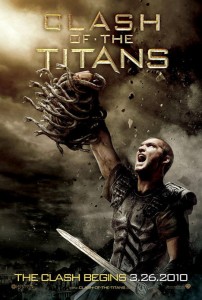 Sam Worthington is a newcomer to Hollywood, but this is going to be his third huge blockbuster CG fest since last years Terminator Salvation. With the starring role in Avatar and Clash of the Titans it looks like he is straight on the road to being an A-Lister. The only major complaint that I have about him, is the fact that he desperately needs a new voice coach if he plans to keep doing American accents. In both Terminator Salvation and Avatar I could here his Aussie accent creeping in. Most people aren't dialect freaks like I am, so they probably won't notice. For those of us who do though, this is a real big shock to the suspension of disbelief. It is a pretty minor complaint, but it is there.
As for this film. No disrespect to Ray Harryhausen, but this movie looks like it will put the original to shame. The amount of technological firepower available these days it should have no problem. I'm just hoping that a story doesn't get lost in an orgy of CG. One thing is for sure 2010 looks to be shaping up to be an awesome movie year!
Synopsis:
Caught amid a war between the gods, Perseus (Sam Worthington), the son of Zeus (Liam Neeson), is helpless to save his family from Hades (Ralph Fiennes), god of the underworld. With nothing left to lose, Perseus leads a band of warriors on a dangerous quest to prevent Hades from overthrowing the king of the gods and laying waste to the Earth.
Cast: Sam Worthington, Liam Neeson, Ralph Fiennes, Mads Mikkelsen, Gemma Arterton, Danny Huston
Director: Louis Leterrier
Genres: Mythological Fantasy, Fantasy Adventure, Fantasy, Sword-and-Sandal
Release Date: March 26, 2010