New 'Alice in Wonderland' Trailer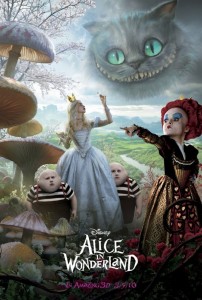 I think I might be one of the few people not enamored with Tim Burton's genius. I'm not saying I dislike his movies, I just think he gets a little too much credit for being "different". His kind of different seems to be very calculated and precise. It doesn't seem organic to me. He almost seems like the Hot Topic of film. You know where goth and emo kids go to buy clothes that set them apart from everyone else, but instead they are just insisting on conforming to new standards. I know this is just my opinion, it just seems he goes a bit to far to be different. Oh well, maybe I'm the narrow minded person in this scenario?
Synopsis:
From Walt Disney Pictures and visionary director Tim Burton comes an epic 3D fantasy adventure "Alice in Wonderland", a magical and imaginative twist on some of the most beloved stories of all time. Johnny Depp stars as the Mad Hatter and Mia Wasikowska as 19-year-old Alice, who returns to the whimsical world she first encountered as a young girl, reuniting with her childhood friends: the White Rabbit, Tweedledee and Tweedledum, the Dormouse, the Caterpillar, the Cheshire Cat, and of course, the Mad Hatter. Alice embarks on a fantastical journey to find her true destiny and end the Red Queen's reign of terror. The all-star cast also includes Anne Hathaway, Helena Bonham Carter, and Crispin Glover.
Cast: Mia Wasikowska, Johnny Depp, Anne Hathaway, Helena Bonham Carter, Matt Lucas
Director: Tim Burton
Genres: Children's Fantasy, Fairy Tales & Legends, Fantasy
Release Date: March 5, 2010