Netflix Exclusive 'Hemlock Grove' Review – Episode 1 and 2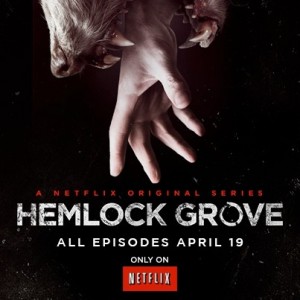 A new 13-episode television series from Netflix is sure to have viewers talking. The only thing that I question is whether they will think it's good or bad. Hemlock Grove was released on Netflix on Friday, April 19. The 13-episode series features a cast of virtually unknowns, besides Famke Janssen and Lili Taylor.
I have to admit, after seeing the trailer for the series, I was interested. The fact the Eli Roth, director of Hostel is a producer of the series, had me even more interested. The other producer is Brian McGreevy, who penned the novel that the series is based upon.
After watching the first two episodes, I am kind of stuck at trying to come up with my take on the series. I will say this, if you think "Hemlock Grove" is going to be like Twilight, you're wrong. This series has balls, unlike the hokey Twilight Saga. Hemlock definitely is slow to develop. After seeing the trailor, it's obvious that the series revolves around werewolves. But, you do not see a werewolf in the series until nearly 100 minutes in, at the end of the second episode.  But, that transformation, is so sick and twisted, it's worth the wait. Watching eye balls pop out of a head is pretty cool stuff.  But, if you're looking for an action packed series, you might be disappointed with at least the first two episodes.
The show's plot revolves around gypsy teen Peter Rumancek (Landon Liboiron), who along with his mother, played by Taylor, has just rolled into a small Pennsylvania town right before a girl is murdered. The murder is pretty gruesome, as we get some gore and guts pretty early on in the first episode. Peter is the suspected killer after Christina (Freya Tingley) begins telling anyone who will listen at school that Peter is a werewolf. Of course, we find out later in the second episode that she isn't full of crap. Peter has no friends besides local rich-kid and weirdo, Roman Godfrey. Roman is played by Bill Skarsgard. To say Roman is weird would be an understatement, as he slashes his own thumb while having sex and earns his red wings in a school bathroom. (Told you this series wasn't like Twilight) I'm really interested to see where Roman winds up throughout the series. He's definitely an interesting character. While Roman is perplexing, the two most intriguing characters happen to be female. One is Roman's cousin, Letah (Penelope Mitchell) who has been impregnated, but no one is quite sure by who. She claims an angel did it to her in her dreams. Yikes! And the other interesting character is Roman's sister, Shelley (Nicole Boivin) who seems to be a gentle giant. Shelley is 7' foot tall. She only speaks through her Iphone, which is hung around her neck by a chain. The only other way she communicates is by grunting. It seems destined that she will turn into some sort of monster.
Hemlock Grove is at times masterful, but more times than not, it's slow. I'm not going to give up on the 11 other episodes, as I have a vested interest now. If I had to compare it to compare it to other shows, I would say it's a cross between Dawson's Creek and True Blood mixed with a little Twin Peaks. While I was never quite sure what to make of Twin Peaks, I used to be a fan of the Creek and I watch True Blood, so this series seems to be right up my alley. With Eli Roth at the forefront of this series, I'm sure there will be a lot more scares and gore to come.