WWE Monday Night Raw Review / Recap (4/22) – Undertaker, Kane and Daniel Bryan vs. Shield, Chris Jericho vs. Dolph Ziggler
Monday's April 22 edition of Monday Night Raw was one of the more boring weeks to come along in a while. The show had more of a filler tone to it, meaning it was just there to take up 3 hours of your time. With a pay per view 4 weeks out, it's understandable that the show wasn't up to par like it had been in weeks past.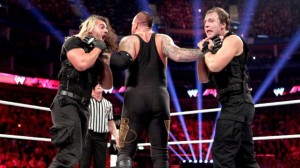 C.M. Punk is likely gone from the ring for at least 6 weeks. Latest reports show he has not just one, but four injuries to his knee, and he is just burnt out. So with Punk gone, Raw viewers did get to see a good match featuring the Undertaker along with Kane and Daniel Bryan. The trio battled The Shield. Overall, it was a great match, with The Shield getting the win. There were rumors of a fourth member of The Shield coming forward, but that did not happen. I'm really starting to buy into the group. They are awesome on the camera and their in-ring work is pretty solid.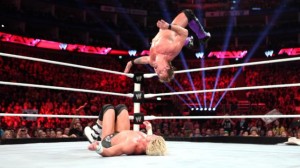 The only other match worth watching was the Chris Jericho and Dolph Ziggler match. The stipulation was that if Jericho won, he would be in the title match at Extreme Rules, making it a fatal-four way. I was hoping to see him win, and the match was very suspenseful. Ziggler ultimately got the win after a Fandango interference. Jericho later retaliated with a sneak attack on Fandango. He then danced with Fandango's escort to the ring. The segment was pretty good, setting up a rematch at Extreme Rules. Fans are really into the Fandango character. His intro music is phenomenal. I actually downloaded it on my phone last night. I'm really looking forward to seeing where they go with his character. The WWE could have something big on their hands with the young star.
Speaking of Ziggler, the writing is beginning to be on the wall for a breakup of his little group with A.J. and Big E. If you watched last night, there were a couple instances where Big E looked to be upset with Ziggler. I hope this doesn't happen for a while, but it's slowly starting to happen. This will only make Ziggler better.
I was not big on the opening of the show with Triple H and Paul Heyman. Quite frankly, Triple H is coming off like a bully. He's constantly seen beating up and pushing around the out of shape and portly Heyman. It's to the point where it's extreme overkill. It needs to stop. Maybe Lesnar will put an end to it next week.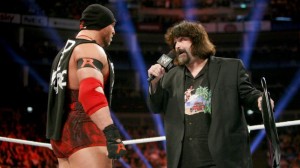 The ending of Raw also left a lot to be desired. Mick Foley is retired. He is a living legend to most fans my age, but he needs to stay out of the ring. He looks worse than Ric Flair, and that's saying a lot. To even consider that he would square off with Ryback is ludicrous. Yes, John Cena came down to get the save, but please! I was hoping to see Ryback join The Shield. As I said before, the rumor was on the Internet that there would be a fourth member. As Cena left Ryback in the middle of the ring, I was sure he would join The Shield, but it didn't happen. Cena came in to save him, and then he gave him the F.U. I will call his finishing move by the old name. I like the storyline being created, but just wish Cena would go back to his thug ways of old. I know that Cena is all about playing to the kids, but WWE could be killing Ryback's character by turning him heel.  Only time will tell how things play out.
Less than 4 weeks until the big pay per view in St. Louis! Click here to purchase tickets to WWE Extreme Rules at the Scottrade Center in St. Louis (May 19).
Photos © WWE.