NBC's "30 Rock" Planning Live Episode of the Hit Comedy Show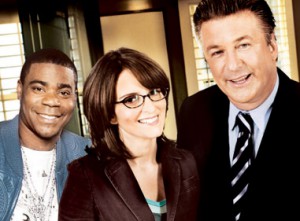 Get ready to tune into NBC on October 14th, as NBC's Emmy Award-winning comedy series, 30 Rock, performs a special live episode from studio 8H at Rockefeller Center in New York City.
"We've had great success with live episodes in the past, both in a creative sense and in the ratings," said President of NBC's Primetime Entertainment Angelea Bromstad. "I can't imagine a series more suited to do an incredible live episode, thanks to its many cast, writers and producers, who hail from TV's most renowned live series, 'SNL.'"
The live show will actually have two versions telecast – one live feed for the East Cost, and another for the West Coast. The first show will be telecast at 8:30-9 p.m. (ET) for the East and the cast will perform the same episode for a new broadcast at 11:30 p.m.- 12 a.m. (ET) for the West. Central time zone viewers will be able to see the first live show at its regular time (7:30-8 p.m. CT).
This is a first for the comedy, but NBC of course broadcasts live every episode of Saturday Night Live, and once did a very highly rated live version of  their hit drama ER.
I'm quite looking forward to seeing how Tina Fey and crew handle a live show of a sitcom. What is the over/under of Tracy Morgan doing something really crazy?
What do you think? Let us know in the comments!