NBC Previews "Community" | New Show Starring Joel McHale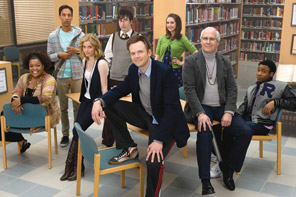 NBC's new show, "Community," is a half-hour comedy about a group of adults who are attending community college. The show stars Joel McHale, famous for being the host of E! Television's "The Soup," where he criticizes the not-so-good, the bad, and the ugly shows on television.
From NBC:
Community
Half-hour comedy
Series Premiere Thursday, September 17th 9:30/8:30c
From Dan Harmon ("The Sarah Silverman Program") and Emmy Award-winning directors Joe and Anthony Russo ("Arrested Development") comes "Community," a smart comedy series about a band of misfits who attend Greendale Community College. At the center of the group is Jeff Winger (Joel McHale, "The Soup"), a fast-talkin' lawyer whose degree has been revoked. With some help from his fellow classmates, Winger forms a study group who eventually learn more about themselves than their course work.
Also among the series stars who comprise the group are comedy legend Chevy Chase ("Chuck") as Pierce, a man whose life experience has brought him infinite wisdom; Gillian Jacobs ("The Book of Daniel") as Britta, the 28-year old drop out with something to prove; Yvette Nicole Brown ("Rules of Engagement") as Shirley, a sassy middle-aged divorcée; Danny Pudi ("Greek") as Abed, a pop culture junkie; Alison Brie ("Mad Men") as Annie, a high-strung perfectionist; Donald Glover ("30 Rock") as Troy, a former high school football star trying to find his way and Ken Jeong ("The Hangover") as Spanish professor, Señor Chang.
"Community" is a Krasnoff Foster Entertainment, Harmonious Claptrap, Russo Brothers production, Universal Media Studios production in association with Sony Pictures Television. Russ Krasnoff ("The Soloist"), Dan Harmon ("The Sarah Silverman Program"), Joe Russo ("Arrested Development"), Anthony Russo ("Arrested Development"), Garrett Donovan ("Scrubs"), Neil Goldman ("Scrubs") and Gary Foster ("The Soloist") serve as executive producers. Joe and Anthony Russo directed the pilot, written by Harmon.