NBC cancels 'Southland'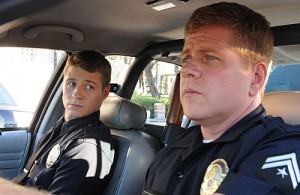 The rumor mill is buzzing tonight. NBC has canceled its critically acclaimed show based around the lives of cops in an LA precinct, Southland. This is before even airing any episodes of the second season which was supposed to debut on October 23rd.
One of its stars, Michael Cudlitz, who I will forever admire for his role on the HBO WWII epic, Band of Brothers, has been letting people know of his displeasure on his Twitter account. From Cudlitz's Twitter: "Don't go quietly. People need to know when they f–k up this big. Saw ep 2.1…Dumb f–king people. Call NBC and ask them where the promos are. I am serious."
I regard this as a big misstep by the struggling network. They have determined that the six episodes that have been shot were too "dark and gritty" for television.  No word yet on whether or not these episodes will be released in some form or another on another network or on DVD. Southland recieved a quick renewal last May, which many people were surprised at. Although, more surprising is paying for six episodes to be produced, and not airing them.
I really loved the gritty realistic portrayal of cops in this hour long drama. It didn't gloss over the mistakes they made, and was one of the most realistic scripted dramas I can ever recall seeing. The season finale last year had me pumped for a new season. Although, all is not lost. I'm sure internet campaigns will be popping up all over soon. Expect some people to fight NBC on this decision.