MTV "Jersey Shore" Star Snooki Arrested for Disorderly Conduct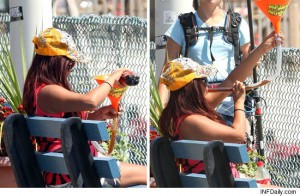 In another case that is sure to incite a rapid sense of schadenfreude in many people, Jersey Shore star Snooki has been arrested in Seaside Heights, NJ for disorderly conduct, according to the celebrity gossip website TMZ.  So far, not a lot of details have been revealed.
Snooki, real name Nicole Polizzi, has recently been in the news due to a "feud" with President Obama. I say "feud" because President Obama says he doesn't know who she is, and her chronic narcissism prevents her from believing that is true. She recently complained about Obama on a recent episode of Jersey Shore, where she complained about a 10% tax on tanning now,  "I don't go tanning anymore because Obama put a 10 percent tax on tanning. McCain would never put a 10 percent tax on tanning. Because he's pale and would probably want to be tan," she said.
Sounds like she has her priorities in order? This is coming from a girl who was reported earlier today to be using a beer bong to drink Coca-cola, and was doing fake body shots. Sounds like a real role model!
What do you think? Let us know in the comments!