Movie Review: 'Tower Heist' Starring Ben Stiller, Eddie Murphy, Matthew Broderick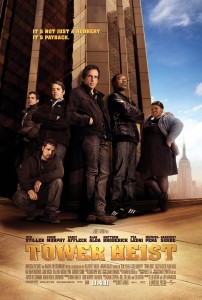 I am always a little skeptical of a highly advertised comedy with a bunch of big names in the cast. I ask myself, "is it really going to be good, or do they just shove as many star-studded names onto the marquee as possible?" Unfortunately, Tower Heist seems to follow the formula of the latter.
Josh Kovacs (Ben Stiller) is the building manager for "The Tower," an ultra-secure, ultra-expensive building for New York's elite. One of his most important tenants is Arthur Shaw (Alan Alda), a Wall Street mogul who has become a close friend of Josh's over the years. That is until he is acused of security fraud, and stealing billions of dollars from his investors of the years. Even worse, Josh chose him to manage his employees' pensions, which seem to be as good as gone. Faced with the duress of losing everything for his closest friends and co-workers, Josh destroys one of Shaw's most prized possessions – a Ferrari driven by Steve McQueen, worth a million dollars. After being fired, Josh orchestrates an elaborate heist to steal back the money that Shaw has wrongfully taken.
Josh's not-so-criminal accomplices are comprised of: his former co-worker Charlie (Casey Affleck), recently evicted tenant Mr. Fitzhugh (Matthew Broderick), newly hired and newly fired elevator operator Enrique (Michael Pena), housekeeper Odessa (Gabourey Sidibe), and a criminal that yells at him as he passes by everyday on his way to work – Slide (Eddie Murphy). The cast is great, and there was so much potential to make this movie more enjoyable than it was. The problem however, is that it was just poorly written and executed. There were so many bad jokes that simply fell flat. And I don't mean bad jokes in a Zoolander way. I mean bad jokes in an Envy kind of way (Ouch, it hurts just thinking about that movie).
I have to give credit where credit is due, and I will say that this movie sees the return of classic Eddie Murphy. He was his crass, hilarious old self again in this film and is one of the best parts. Although I'm not saying this is Coming to America or Beverly Hills Cop, but at least we get a taste of what we've been missing while he has resigned to kids movies all of these years.
The beginning of the film is pretty painfully slow. While setting up the story, we meet mostly two-dimensional characters and the jokes are just painstakingly awful. The movie doesn't really get entertaining until the latter half, where Josh and his crew are actually trying to pull off the heist. Everything up until then, as far as getting his dream team of thieves together and training them to bypass The Tower's security, just seems to drag out.
Director Brett Ratner doesn't have a terribly proven track record, and this film falls pretty much right where it is expected: somewhere in-between Money Talks and Rush Hour 3.
I really wish that Tower Heist was better than it ended up. I went in with generally low expectations, which usually turns into a pleasant surprise. Unfortunately I just couldn't get past the bad jokes and dialogue. Don't get me wrong; it isn't the worst movie I've seen by a long-shot. If you think the premise sounds fun enough, and you can get past the bad lines, it might be fairly entertaining. Just don't expect to see classic Stiller genius here.
Tower Heist is a C-