Movie Review: "Martha Marcy May Marlene" w/ Elizabeth Olsen and John Hawkes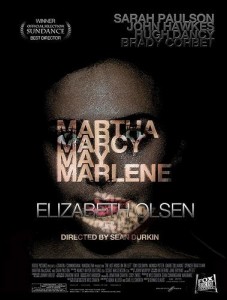 I remember watching MTV news one time when they were discussing Michael Jackson. He had somehow fallen out of the spotlight and was being referred to as Janet Jackson's brother. It astonished me; but what would be more astonishing is if in a few years' time, Mary-Kate and Ashley Olsen weren't being referred to as Elizabeth Olsen's sisters.
Martha Marcy May Marlene appears to be a fairly straightforward story. In fact, the less you know about it the better, so continue with caution; but essentially it's the story of Martha (Elizabeth Olsen) and her experiences at a commune in upstate New York. At a deeper level, it's a thrilling psychological character study of several key figures in the story.
The acting is the most apparent achievement of this film; however it is not the only one. The dialogue, pacing, directing, cinematography, even sound editing are all amazing. The first few scenes of the film make excellent use of sound. There are several scenes that highlight the extremely mundane. Sounds of plates being set on a table or the crunching of a cheap, thin paper napkin are often the only things the audience hears – and in a film that examines the use of sensory and cultural deprivation, we know that this is intentional.
This is a film that is to be experienced, not just watched. Even beyond the use of sound, director Sean Durkin uses almost every shot to inform the story. The outdoor scenes at the commune are framed to enhance the freedom of the outdoors and the scenes in the gratuitously oversized house are framed to show how impersonal materialism can be. Even Martha's POV shots are often filmed in such a way that keeps her perspective out of focus. It seems to speak to her disconnection from her surroundings – a theme that is central to the film.
It's often said that a great actor is never recognized as such because they can inhabit a role so well. This could not be truer than with actor John Hawkes in his role as the smooth and calculating cult leader, Patrick. There have already been comparisons to his role in Winter's Bone and Michael Parks' similar role in Red State, but this is perhaps the best.
While this lauding review may make this film seem like some high-brow art house picture, it is not…or at least it doesn't have to be. Martha Marcy May Marlene works on almost every level. Whether it's being analyzed in a film class or casually watched in a living room, Martha Marcy May Marlene makes an impact.
As impressive as this film is, it would be shocking if this film wasn't nominated for at least a couple of Oscars. So if you enjoy quality cinema, psychology or movies where you can dissect a character and his/her motivations, check out this movie.
-Worth Your Money-
Not Worth Your Money
Worth Somebody Else's Money