Movie Review: 'To Rome With Love' Starring Jesse Eisenberg, Alec Baldwin, Ellen Page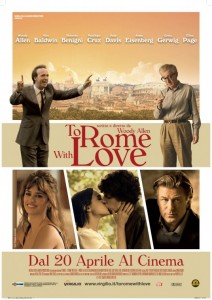 Woody Allen has provided some remarkable films that viewers have walked out of theaters and talked about for days, but he has also provided films that are instantly forgettable.  His latest film "To Rome With Love" falls somewhere in between.  Unfortunately, coming off the critically acclaimed "Midnight in Paris", most will leave the theater disappointed in comparison.  But if you are able to take the film in for what it is, instead of comparing to his most recent film, then you will be able to enjoy this light hearted comedy.
The film shows us the life of four couples living in Rome.  The first couple we meet is Michelangelo and Hayley who have just met while Hayley is on vacation.  The two soon become serious, and Hayley's parents come to visit to see Hayley and to meet their future son in law's family.  Our next couple is Jack and Sally.  Jack is an architecture student who has suddenly taken a liking to Sally's best friend who has come to stay with them for a while since her boyfriend just broke up with her and her acting career is not taking off.  Antonio and Milly are recently married, honeymooning in Rome but looking to permanently move there due to Antonio's family ties in the business world.  And finally, we are introduced to Leopoldo and his wife.  Leopoldo is just an average, every day worker who is suddenly thrust in the limelight for no apparent reason.
Surprisingly, Woody Allen balances these stories very well especially considering half way through the film, Antonio and Milly get separated.  So that's 5 different story strands that audiences have to keep up with.  Allen never focuses on any one segment for too long which helps the film continue to move along.  The cast is all very likeable and people that you will enjoy watching on screen.  Jesse Eisenberg and Ellen Page do the best work here.  And Penelope Cruz is an absolute knockout.  Also, the humor keeps the audience engaged.  If you have seen a Woody Allen before then you know his style of comedy.  And Allen does not stray from that in this film.
While the humor and comedy style is a positive, it is also a minor negative at times.  The audience is aware of the typical Woody Allen character.  Allen played it himself in his early films, and Owen Wilson played it well last year in "Midnight in Paris".  While this character is funny and entertaining to watch, Allen gives it to us times four in this film.  Each story strand has your typical Woody Allen character.  It starts to be tiresome after a while to see in each scene.
Overall, the film works.  As mentioned before, this is not "Midnight in Paris".  But this is Woody Allen making a Woody Allen movie and saying "I don't care if the credits say that this is crazy or weird or rehashed.  I am making my movie."  If you are okay with this, then you will be entertained by the film.  This would be one of Allen's better films in the last decade along with "Midnight in Paris", "Vicky Cristina Barcelona", and "Match Point".