Movie Review: 'The Wind Rises' Directed by Hayao Miyazaki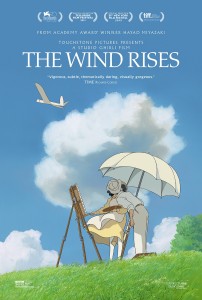 Hayao Miyazakio is truly one of the greatest animation directors of all time. I still remember watching KiKi's Delivery Service and My Neighbor Totoro as kid for the first time. The stories and characters that he creates captures the audience's attention and allows them to escape reality for a little while. Some of his recent films are Spirited Away, Ponyo, and Castle in the Sky. The Wind Rises is nominated for an Oscar for best animated feature; this puts him up against Frozen, Despicable Me 2, and The Croods that were also nominated (I really believe Frozen has a lock on the award but it is great to be nominated).
The Wind Rises takes place in the early 1900's Japan following a young boy named Jiro Horikoshi (Joseph Gordon-Levitt). The young boy dreams of someday flying airplanes. He is inspired by an Italian aeronautical engineer Caproni (Stanley Tucci). Due to his nearsightedness, he decides to design airplanes after waking from a dream with Caproni. He then sets on his journey to change airplanes in Japan forever.
Along the way, Jiro is inspired by a saying that states, "The wind is rising; we must try to live." Throughout the movie he finds that wind can change in many directions, but always to stay the course of becoming one of the greats. He finds the love of his life and she only inspires him even more to succeed with his profession. In the end you will find yourself rooting for Jiro even though the development of the planes ends up causing massive destruction and death to a lot of people.
Hayao Miyazakio is great at finding a way to show that it was about the passion and desire of success that drives Jiro. He is definitely ending his career on a high note.
The animation that is displayed in this movie is breathtaking; It really shows the highs and lows of Japanese culture. He shows this by earthquakes destroying cities, the great depression, and a country preparing for war. Also how one dream could fuel your whole life, and that love can inspire you to fulfill that dream.
The Wind Rises is a B+