MOVIE REVIEW: THE RESIDENT – STARRING JEFFREY DEAN MORGAN, HILARY SWANK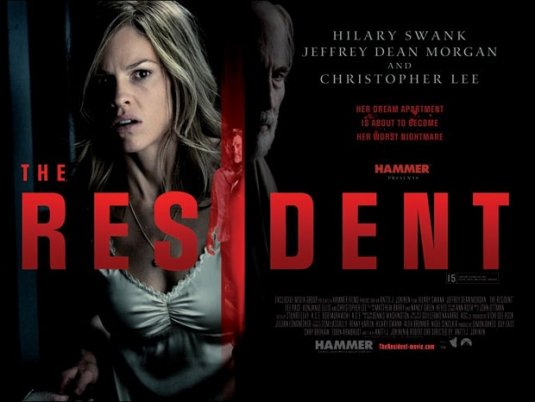 I usually try to stay away from direct to DVD releases.  Mainly because they are terrible.  But every now and then you find a real gem.  A film that when you finish you think, "Why wouldn't the studio want to release that in theaters?"  THE RESIDENT is a film that, for me, fell right into that category. 
Juliet is a young ER doctor who recently split up with her boyfriend.  She is searching for a place to stay, and walks right into an apartment that is just too good to be true.  The owner, Max, seems like the perfect landlord: helpful, courteous, and easy on the eyes.  But soon Juliet starts to become uneasy in her new apartment.  Is someone watching her?  And if so, who?  Max?  A jealous boyfriend?  Max's creepy grandfather?
If I had to pick a fault with the film its that it does not bring anything new to table.  You have a feeling of what is going on, and the film actually reveals what exactly is happening pretty early on.  But the music, cinematography, and acting all keep you invested in the film. 
Hilary Swank plays Juliet with complete believability.  You really feel uncomfortable along with her, and she does a great job in portraying the subtle emotions that really make the character work.  Jeffrey Dean Morgan is Max, and I must say that this guy deserves more big time roles.  He is great in the role from beginning to end.  Christopher Lee plays Max's grandfather.  The man only needs to speak for the audience to be creeped out by him.
If you are looking for a good, creepy movie to sit down and watch on a Saturday with a date, your wife, or some friends then I fully endorse the $1 rental at your local Redbox.  As I said before, don't expect a twist ending, but I think the film is effective even if you know what is going on.  Hopefully, Hammer continues to churn out good horror films.