Movie Review: 'The November Man' Starring Pierce Brosnan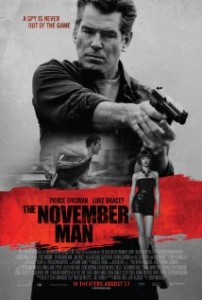 If Tinker, Tailor, Solidier, Spy is croquembouche (the elaborate, ornate dessert), simultaneously being rich and decadent with its twisty, turny plots, and subtle and nuanced, with its labyrinthine undercurrents, then The November Man is a skittle.
There's an approximation of what the spy/espionage genre entails, it's just not actually there… which is why we have an agency handler saying things like, "I want eyes on him!" or a reporter uttering, "Let me get my dictaphone."
Based on a series of books by Bill Granger, "The November Man" is a spy thriller/revenge flick in the vein of the Bourne series or Taken… but without the thrills. Or much of the spying. What we do have is not James Bond doing a lot of not James Bond stuff (unless James Bond liked to sit around and talk. Or walk and talk. Or just talk.)
Pierce Brosnan plays Peter Devereaux, a retired ex-CIA agent who left after a mission gone awry thanks, in no small part, to an impetuous trainee. As is often the case, Peter is pulled back in, and now, he's facing off against his trainee… dun, dun, dunnnnnn.
The rest of the movie involves agency shenanigans, a boorish Russian presidential hopeful with a shady past, sex trafficking, a lady assassin/yoga enthusiast, drones that look like they were ordered from an outdated Brookstone catalog, and a complete lack of action set pieces.
Seriously, Marco Beltrami, composer of The November Man, has his work cut out for him as he adds notes of tension, terror, suspense or non-stop action to scenes such as: two guys in a cafe, two people walking around town, and a showdown at a scenic overlook that has as much action as a family of tourists all trying to get in the same snapshot before the timer on the camera goes off.
Brosnan is adept at adding a sense of style to any role – and he's probably been eyeing some of that Liam Neeson work, as of late – so he does help bring a little substance to what amounts, as my buddy Tom called it, an airport novel of a movie.
With a sequel already in the works, The November Man may be a fine way to beat the heat, but you can pretty much check your head at the door.