Movie Review: 'The Five-Year Engagement' Starring Jason Segel and Emily Blunt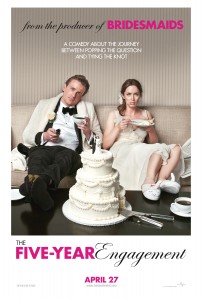 Relationships are complicated. I'm sure if you've never been in one, you can see that they can cause a lot of strife for both parties involved. However, the joy created in the relationship can  power one through such turmoils. This is basically the plot for the sometimes funny, sometimes uncomfortable, sometimes played out film from Nicholas Stoller and Jason Segel, who team up for their third film together.
The Five-Year Engagement follows Tom (Jason Segel) and Violet (Emily Blunt) at the beginning of their engagement. The world is open to the couple, Tom is a sous chef at a top San Fransisco restaurant, and Violet is getting ready to do her post-doc work in psychology. Unfortunately for the couple, her best offer takes them to Michigan, which forces Tom to give up a head chef job at a new restaurant. For love, Tom is willing to give up a couple years so his significant other can follow her dream. The two years turns into much more, and not being able to follow his own dream Tom starts to go a bit crazy. Their relationship begins to lose much of its early shine. The couple is forced to make big decisions. Do they continue their engagement or do they part ways?
The strongest point of The Five-Year Engagement is how blunt it is, sure some of it is sugar coated in comedic situations, but it doesn't make it any more comfortable to watch. It brings you through every high and low in the relationship of Tom and Violet. The middle of the film is very uncomfortable to watch as one character spirals out of control for a bit. Segel and Stoller were bright enough to include some great comedy bits in these moments to take a bit of the edge off of the plot.
Stoller and Segel have come from the Apatow comedy mold, focusing on humanizing characters, and selling the comedy through their strong performances. There is one flaw they picked up from Apatow that should be addressed.  The biggest downside of this film is its length. Coming in at just over two hours, the film could have used an extra 20 or 30 minutes left on the cutting room floor. The most unfortunate thing about this is that there are a number of obvious cuts. The film drags through the middle, and kills a bit of its charm. The solution looks simple, but it's always easier looking at a product that isn't your own.
The film is sold mainly on the charm of its two lead actors,  Segel and Blunt have a chemistry that feels real. There isn't stunning sexual chemistry, but they sell the look of a couple who could withstand lots of issues and possibly stand the test of time. Segel who went from a secondary actor in the Apatow crew is now emerging as possibly the most famous of the bunch,  possibly neck and neck with Seth Rogen. Segel has a string of successful films, as well as one of the most popular shows on TV at the moment. Much like Rogen, he's writing much of his own material, and flourishing because of it. Blunt, who broke out in Devil Wears Prada, has made the most of her breakout role. She continues to shine as a rising female lead. Both actors are well on their way to becoming household names over the next decade. Segel as the affable everyman, and Blunt as the adorable girl next door.
The supporting cast adds a lot of depth to the film. Chris Pratt in particular continues to solidify himself as a solid comedic character actor. I would have never guessed when he got his start on the WB show, Everwood, that he would grow into a talented comedian. Allison Brie of Mad Men and Community fame holds herself well, but her over the top British accent does seem out of place for the actress. Luckily, the effect isn't detrimental.  Brian Posehn, Mindy Kaling, Lauren Weedman, Kevin Hart, Chris Parnell, and Rhys Ifans all contribute to the large cast.
All in all The Five-Year Engagement is a top notch romantic comedy. It avoids a number of the pitfalls that formulaic romantic comedies so often get trapped in, and instead focuses less on clichés and replaces them with some raw moments. If you are looking for a smarter breed of romantic comedy, this is your film. Just be prepared for a bit longer stay at the theater than most romcoms would give you.
Grade: B+