Movie Review: 'Ted' Starring Mark Wahlberg, Seth MacFarlane, and Mila Kunis
Sometimes, you just gotta have dessert.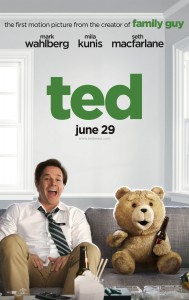 Now, I love food, as anyone who's seen me can attest. I love Italian, burgers, seafood, just about anything. If I ever met a woman who'd willingly make me lasagna or filet mignon on a daily basis, I'd propose.
Sometimes, though, the simplest dessert will hit the spot.
And that's how I approach movies. I love intricate plots, gorgeous visuals, and emotive characters, but sometimes, I just want something so outrageously simple, it's brilliant. And here I stand with Ted, which may be the funniest movie I've seen this year.
If you're familiar at all with Seth MacFarlane and like his work, in simplest terms, Ted is a non-censored live-action "Family Guy." It's even less politically correct than Seth's shows, which can be either a good or bad thing, depending on your sensitivities.
Eight-year-old John Bennett (Bretton Manley) doesn't have many friends. Well, really, he doesn't have any. Even the Jewish child the other neighborhood kids beat up on Christmas don't like him. When his parents give him a large teddy bear for Christmas, he names him Ted. That night, he wishes Ted were alive and a real companion. Somehow, magically, Ted is brought to life and becomes his best friend, because nothing's more powerful than a child's wishes. Except an Apache helicopter.
Forward 27 years and John (Mark Wahlberg) is working on a promotion at a car rental place while his girlfriend Lori (Mila Kunis) works in an office with a creepily flirtatious boss (Joel McHale). John and Lori live a relatively normal life with the exception of Ted (Seth MacFarlane), who became famous for his unique persona but now lives an obscure life with the couple. John and Ted still hang out all the time, smoke weed, and watch their favorite childhood movie, Flash Gordon.
Things begin to sour, though, when Lori begins to ponder whether John will ever settle down and have a serious future together with her, and it reaches the point that Ted must move out on his own. Ted gets a job at a local grocery store and even begins dating one of the cashiers (Jessica Barth). Meanwhile, Ted is confronted by a creepy father (Giovanni Ribisi), who wants Ted to come home with him to his son (Aedin Mincks).
If the premise seems somewhat flimsy, well, it's pretty much borrowed from every other buddy-buddy film that doesn't involve a stuffed animal. The quality, though, comes in its execution. McFarlane is at his absolute best making off-hand comments here, and he and Wahlberg have a solid friendship in the film. All of the main characters play off each other well, and it seems like they genuinely had a lot of fun in the movie. Per typical Seth MacFarlane, there are a lot of pop culture references that I picked up, and I'm sure I missed quite a few.
One thing I absolutely loved was the amount of cameos and guest appearances in the movie. Stars past and present are abound in the film. Ryan Reynolds, Sam Jones, Patrick Warburton, Laura Vandervoort, Tom Skerritt, Norah Jones, Matt Walsh all have roles in the film. McFarlane even brought in Alex Borstein, the voice of Lois Griffin (among others) in "Family Guy," as John's mother. To top it off, the narrator is none other than the redoubtable Patrick Stewart.
So what's stopping this from being the greatest movie of all time? Well, like I said, other than the whole teddy bear thing, the plot itself is borrowed from a hundred other films, and it's not breaking any ground. Once the second half of the film rolls around, it takes a somewhat darker tone and loses some of its appeal. The film ends strong, but the crescendo is somewhat disappointing.
Still, this ain't no time for something as trivial as the plot to get in the way. This is just a fun movie, and if you're into "Family Guy," "American Dad," or any of Seth MacFarlane's television series, you owe it to yourself to check it out. I certainly recommend it over Magic Mike (shudder) this weekend. There are some pretty awesome serious films out there (Prometheus), but if you're looking for dessert, you can't go wrong with Ted.
Ted gets a B+/A-.