Movie Review: 'Ted' is Furry, Foul, and a Lot of Fun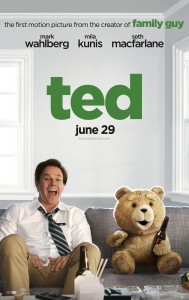 It is so true: what happens to the magical toy or stuffed animal that comes to life in the cute and cuddly children's films? Not just a year or two after the movie takes place – but nearly three decades later. That question, proposed by Seth McFarlane and executed in true Family Guy spirit, is answered with big laughs in Ted.
John Bennett (Mark Wahlberg) doesn't have much going for him, other than his girlfriend Lori (Mila) and his best friend – a magical talking teddy bear named Ted (Seth MacFarlane). 27 years earlier, an eight-year-old John wished that his favorite Christmas gift would come to life. And sure enough, it happened. But flash forward to present day, and John is a burn-out car salesman, who sits around smoking pot and watching TV with his teddy bear. He can't do anything or go anywhere without Ted, which may have been cute at first for Lori – but has gotten old after almost 4 years. When their relationship is threatened, John is forced to choose between the woman he loves and his best friend.
If you are a fan of Seth MacFarlane's random sense of humor, best seen in the Family Guy series, you know exactly what you are in for with Ted. And although the television show can get pretty obscene, it still has the restrictions of network television keeping it from reaching its potential. That is where MacFarlane writing and directing a feature length film comes in. He pulls no punches when it comes to being offensive, and stops at nothing to get the audience to bust into laughter. And from what I could tell, he hit his mark time after time.
When I first heard that Mark Wahlberg was going to be in a movie where he hangs out with a talking teddy bear, I honestly didn't know what to think. But then I thought about it – Mark Wahlberg doesn't take crappy roles. Sure, he has been in some films that weren't the best things ever. But still – Wahlberg is a serious actor who knows what he is doing. At this point in his career, he doesn't need to be taking risks. And in my opinion, he made the right choice. The fact that he is such a serious, no-funny-business actor in a role like this is what makes it so great. And seeing as though he's had a somewhat similar experience with The Other Guys, he really owns the role and makes it his own. I can't imagine the movie being nearly as good without him.
I am a huge fan of Family Guy and Seth MacFarlane. Needless to say, fans of his work and style of humor are going to be the target demographic for Ted. But I honestly feel that even if you aren't a fan of his other work, you can go see this movie with a group of friends and have a great time. It is definitely not for the easily offended – you've been warned. But other than that, I can't remember a recent outing to the theater where I have laughed as much as I did at a grown-up boy and his lovable stuffed animal.
Ted is a B