Movie Review: 'Straight Outta Compton' Starring O'Shea Jackson Jr., Corey Hawkins, Jason Mitchell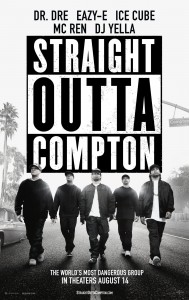 After seeing Straight Outta Compton, it's almost like things haven't changed all that much.
While N.W.A. burst onto the scene in 1988 with the anthem "Fuck the Police," the song seems more relevant now than ever, given the racial tension that is going on in Ferguson.
While F. Gary Gray's biopic of N.W.A brilliantly shows just what the groups members went through to achieve fame, it seems to run just a little too long and get a little too soft near the end.
Gray, (whose first film Friday starred Ice Cube) is now directing Cube's son, O'Shea Jackson Jr. O'Shea is a spitting image of his father in the film, and delivers a strong performance as the young Cube.
Jason Mitchell steals the show as Eric 'Eazy-E' Wright. Wright is easily the deepest character in the film, raising money for studio time by selling drugs. While Wright's small stature mixes well with his high voice, his attitude and the way he carried himself was anything but small.
Ironically, while Cube and Dr. Dre, played by Corey Hawkins went on to experience mounds of success on their own, Wright struggled as a solo artist.
The first half of the film delivers, as Gray is able to show the struggle that the group faced while painting a brilliant picture of the scene that is the inspiration for "Fuck the Police."
While the first half of the film is stellar, the second is a bit of a letdown.
Gray tries to portray the friction among the three rappers, as they go their separate ways. Cube has a platinum solo career and Dre becomes one of hip-hops biggest producers, finding talents like Snoop Dogg and Eminem.
Ironically, the trio that rapped of the violence in Los Angeles, are ultimately brought back together as L.A. burns.
Gray nails the emotional side of the film, as Wright passes from complications from the AIDS virus in 1995. He was just 31.
While surprisingly effective in telling the story of one of the most relevant and controversial rap groups of all-time, I question the authenticity of the entire film.
Most music biopics wait until the artist is dead and gone, most of the artists from Compton are still alive.
With Dre and Cube producing the film, I wondered just how much they shaped and molded the story that Gray was given. It just felt like some of the parts of the films main characters were conveniently left out.
Aside from that, Straight Outta Compton is one of my favorite films of the summer. Any fans of hip-hop should see the film, as it features a stellar soundtrack. I fully expected a great soundtrack with Dr. Dre producing the film.
Straight Outta Compton gets a B+