Brad Reviews "The Sorcerer's Apprentice" starring Nicolas Cage and Jay Baruchel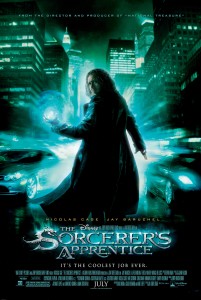 Has some Tricks up its sleeve, but not enough!
"The Sorcerer's Apprentice". I must admit I had seen the previews and I was pretty excited about seeing this movie. Disney had decided to take the animated short from their 1940's "Fantasia" and make it a live action movie, I thought was a great idea, but it is usually a hit or miss when tackling cult favorites of our past; such as, "Transformers" (hit), "GIJOE" (miss).
With Disney writers taking an animated short and making a pretty good story in which Dave (Jay Baruchel) a college student after first meeting Balthazar Blake (Nicolas Cage) 10 years earlier, has been called to learn the trade of being a sorcerer from the sorcerer Balthazar. Balthazar has been searching for decades for the Prime Merlinian and finally finds Dave. Balthazar makes Dave his reluctant student in training. Dave, who just wants to win the heart of a girl (Teresa Palmer), but Balthazar decides to give Dave a crash course in wizardry that will win not only the girl but the battle between Horvath and Balthazar.
Horvath (Alfred Molina) and a henchmen chase Dave through Manhattan, turning one of the Chrysler Building's steel eagles into a winged getaway-car substitute, having fun with a dragon parade in Chinatown, a car chase which is a great action sequence. There is however one major problem with the film that is a huge stretch which is; asking us to believe that Dave, an NYU grad student, has been granted use of an abandoned subway turnaround for his Tesla-coil experiments. The movie eventually nods to its namesake, in a runaway-mop-buckets scene illuminating the dangers of frivolous sorcery. The sequence can't compete with the Mickey Mouse original, of course. It does serve as a reminder – not necessary, but welcome, given the seriousness afflicting many of the movie's peers.
When reviewstl.com asked me to come to the screening and review the movie, I thought it would be a good idea to bring my six year old daughter Addy as I do with most kid movies I review. Honestly, I questioned my choice as it looked like a boys movie, but based on the fact she loved "Percy Jackson" I decided to give it a shot.
I think the way you can tell if a movie is entertaining enough is by how fussy your kid gets. If your 6 year old can sit through the entire movie, then you have a winner. "The Sorcerer's Apprentice" is definitely not one of those movies for my daughter anyway. Addy had a hard time sitting through the whole movie (as did I in). She laughed at certain parts if the movie and commented on how silly there were, but there were times the movie seemed to drag on even for me. I do believe without a doubt a boy would be more entertained, and I was in a row with some older girls that seemed to enjoy it as well. I was entertained, and kept thinking if I was a little boy I would have loved seeing viewing this movie with my father. Dads you will enjoy it, it is not the best movie, but it is clean and even has some call backs to our favorite movies we enjoyed growing up.
After the movie, Addy told me the she liked the movie and she thought it was fun, but really liked "Despicable Me" better. Addy gave this movie a C. She said " I Liked it, but I don't have to see it again do I?" and "We could have watched this at home Daddy".
Buckeye Brad gives this movie a C as well. Not an awesome flick, but a good one for fathers to take their sons to. I is not filled to the brim with action, but there is enough to keep you entertained.