Movie Review: SCREAM 6 Starring Jenna Ortega, Melissa Barrera, Hayden Panettiere, Courteney Cox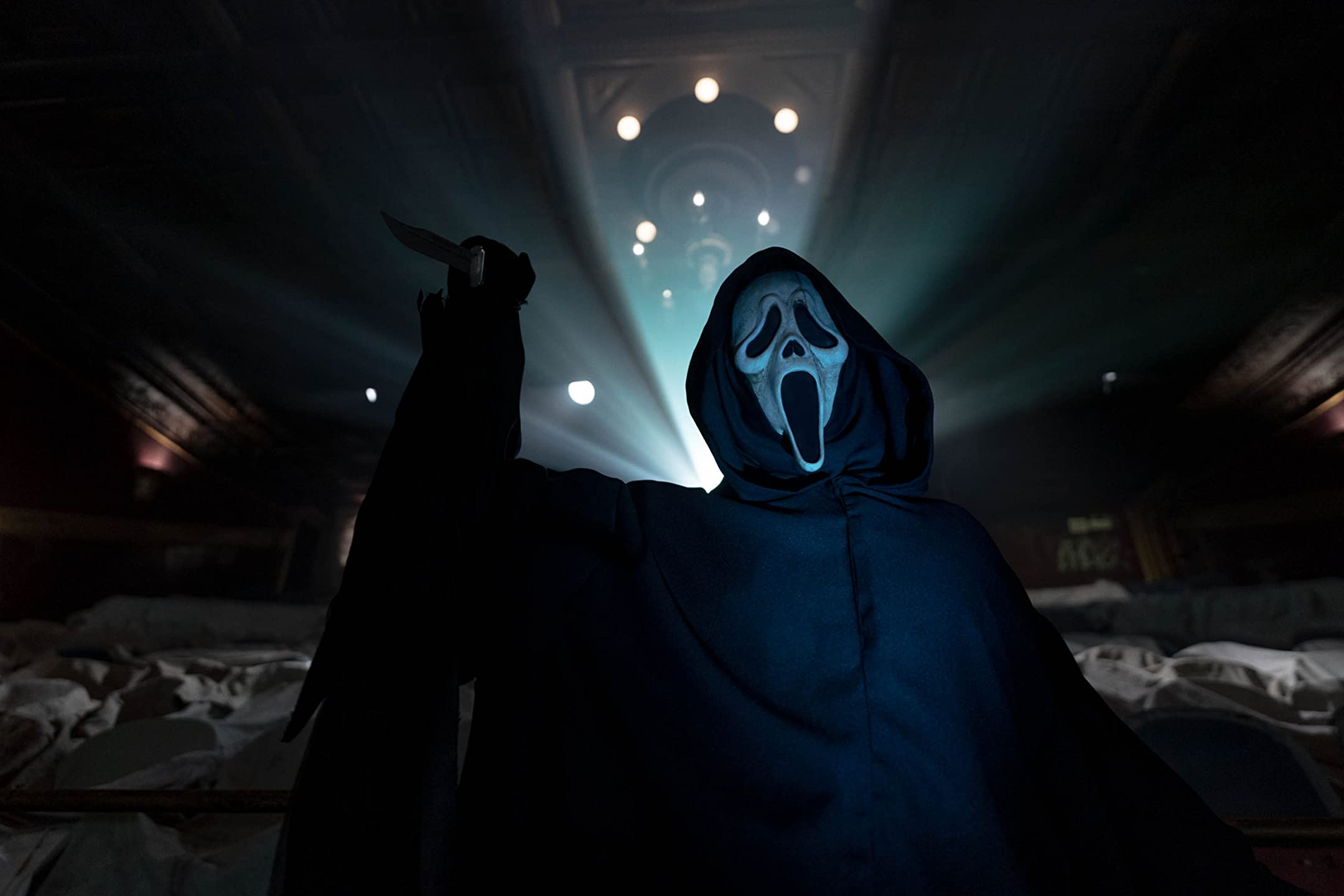 "What's your favorite scary movie?" It may be a tagline to one of those most iconic slasher franchises to still be pumping out worthy entries, but I genuinely want to know, so leave a comment with your fave!
That being said, mine is Scream.
It was the first flick that launched my love for horror cinema, and Wes Craven was truly a staple of the genre. With him no longer behind the lens, we saw directing duo Matt Bettinelli-Olpin and Tyler Gillett take the reigns with 2022's Scream – a meta requel/sequel hybrid that reignited that spark in fans for the slasher genre, proving that even a fifth entry in a franchise can be done quite nicely.
The pair (who also directed 2019's Ready or Not) are back with the next installment, bringing with them returning legacy cast character Courteney Cox as the infamous Gale Weathers. Also returning are Melissa Barrera and Jenna Ortega as sisters Sam and Tara Carpenter, two leads from the last film. Much like Scream 2, we also see Randy's protégé niece and nephew Mindy and Chad Meeks-Martin return as well, after surviving the events of the last film. Plus, in true "Scream" fashion, we need Mindy, our resident horror film junkie to explain to the audience the newest set of rules.
Returning to the franchise is Hayden Panettiere, reprising her role of Kirby Reed from the fourth film – a character many thought was dead before an easter egg in the last film revealed otherwise. And finally, to round out our solid cast – Scream 6 welcomes Devyn Nekoda, Josh Segarra, Jack Champion, Liana Liberato, Tony Revolori, Samara Weaving, and Dermot Mulroney.
And with that, we have our cast for the next sequel to the requel – but this time, they're in the Big Apple.
Many fans were skeptical about taking the cast out of the fictional town of Woodsboro, but this isn't anything like Jason taking Manhattan, I promise you. The New York City setting offers a fresh new habitat that sees the events of Woodsboro following our survivors to the big city. But, in a city of millions, the killer could be anyone, and gruesome deaths that follow with a new Ghostface leading a rampage can easily be overlooked by the scope of how large that city is. Think of NYC as a giant jungle gym for our masked killer to stalk our final girls through, leading a trail of bodies. That's right, this latest entry is by far the most violent, as it should be, one of the rules being "everything must be bigger" – remember Scream 2? There is so much I want to say, but with how the film is executed, and to keep this review spoiler-free, I really will dance around the edge of how fantastic the film is without giving any specifics. The move to New York City was a great decision from the writing team, and fans of the franchise will be treated to nods and mentions from other films in the series on multiple occasions.
This truly is a film made for the fans. What makes it so special is that we see our new final girl, Sam Carpenter, dealing with the aftermath of the catastrophe in Woodsboro, and the reality of who her father is. The repercussions follow her to New York, and threaten the life of her sister and friends. The writing seems much darker this time, and the little giggles and meta-moments (where the previous films seemed to poke fun at themselves) didn't seem as important in this film. As a fan myself, I was unbothered by this.
The violence and gore were definitely ramped up, and the kill scenes were intense, to say the least. I was happy with how they worked Gale Weathers into the story, almost celebrating what was so great about her character in the first film. The third act is a lot of fun, and the dialogue is much more somber than some of the "motive monologues" we've seen before (I'm looking at you Scream 4).
I was pleasantly surprised to see how the film unfolded, and each scene seemed to get darker and more violent. There was a little bit of predictability and, maybe this won't be the case for all viewers, but I felt some moments of foreshadowing were unnecessary. Part of the intrigue of the Scream films is how a lot of the reveals and plot twists are totally unexpected. While this is true of the latest feature, there were a few moments after watching where I was like, "Oh, yeah, I guess that did seem kind of obvious."
Nevertheless, the film is enjoyable and showcases the directors' love and passion for the film, and the importance of pleasing fans and moviegoers. I would love to see Bettinelli-Olpin and Gillett direct another entry and carve out a trilogy of their own as part of one of the most iconic slasher franchises of all time.
Scream 6 is out in theaters now. So, grab your friends, your popcorn, and Ghostface mask, and settle in for one of the darkest entries yet. Enjoy!
B
P.S. Stick around for a fun little post-credit scene.