TV Review: Ted Lasso Season 3 Premiere, "Smells Like Mean Spirit"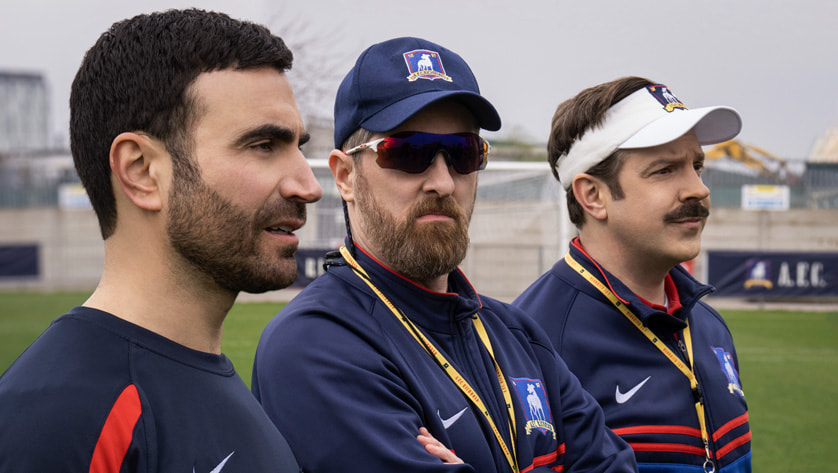 Note: I will be reviewing every episode the week it is released.
Ted Lasso is what people need.
When the Apple TV+ series debuted in 2020, the world was undoubtedly in a bit of turmoil. COVID forced people around the globe into isolation, the US was heading towards one of the most polarizing presidential elections in recent memory, and it truly felt like friendships and relationships were irreparably fractured at times. And in many ways, this sense of cynicism has made its way to entertainment, with so many shows focused on grittiness, copious amounts of violence, and anti-heroes… people who are ostensibly the "good guy" but we can't fully bring ourselves to root for.
Ted Lasso took everything despairing about the world and promptly booted it to the sideline. Based on a few commercials NBC Sports did to promote their coverage of the Premier League, Jason Sudeikis has created a much-beloved eponymous character with a southern drawl and uncanny ability to come up with spot-on similes. He's caring, he's optimistic, he's compassionate, he's willing to give second chances to people who make mistakes. He's what we hope for in the best of people.
Yet at the same time, he's everyman (and woman). He's insecure at times, and his anxiety can be crippling. He struggles to make his long-distance marriage work, and when it doesn't, his loneliness weighs on him.
Still, his resiliency has gotten him through two full soccer seasons, the first of which saw AFC Richmond get relegated on the final day of the season, the second of which saw them get promoted right back to the Premier League (again, on the final day of the season).
And so this is where season three picks up, with the first episode "Smells Like Mean Spirit." With virtually everyone picking Richmond to finish last, Ted faces the difficult task of winning enough to avoid relegation. Beyond this, Richmond Rebecca Welton (Hannah Waddingham) has a personal vendetta against her ex-husband Rupert Mannion (Anthony Head), who's purchased rival team West Ham and installed former Richmond coach Nate Shelley (Nick Mohammed) as manager.
I admit I wasn't as huge a fan of season 2 as I was the first season. I still enjoyed it quite a bit, but I felt like it lost a bit of its charm the second go-around (more on this below). Thankfully, this first episode marks a strong return to form for the series, as it's full of humor, charm, and humanity. All the players from Richmond return, including the volatile Jamie Tartt (Phil Dunster) and the adorably lovable Dani Rojas (Cristo Fernandez), and Sam Obisanya (Toheeb Jimoh).
If you've never seen the show before (and if you haven't, I beg you to do so), there is one scene in the episode that perfectly encapsulates the spirit of Ted and why everyone loves him. During a pre-season press conference, Nate struggles to answer a question before he privately gathers himself and turns mildly aggressive, insulting the reporter and answering subsequent questions with increasing confidence and animosity, especially towards Ted. At other times, Nate is shown to be very self-centered, ignoring people who say hello to him and asking to be called wunderkind as a sign of his soccer brilliance. It's this turn of character that I think made me sour a bit on season 2. I loved Nate in the first season as the bashful yet genius soccer mind, to see success go to his head and have a falling out with Ted during season 2 felt a bit rom-com cheap to me (in the sense that so many conflicts in romantic comedies occur due to misunderstandings; had they communicated more clearly, I don't think Nate would have been so bitter and left the way he did). We see brief glimpses of the old Nate in this episode and subsequent ones, perhaps indicating a bit of remorse, but it remains to be seen whether he goes through a redemption arc or simply turns full heel.
Ted, on the other hand, wins the room over with his charm and humor. He interacts with the reporters, asking them questions about their lives, which perhaps assists in their chuckling at his jokes. When Rebecca asks him to fight back against Nate and Rupert, he does so in a manner only Ted can. He's quick to dish out compliments and he isn't afraid to point the finger at himself when it comes to assigning blame.
Perhaps the strongest compliment I can give the best Ted Lasso episodes is that in a manner, they strive to make me feel every emotion as strongly as possible. When a joke hits, I tend to be in stitches. During emotional moments, I may tear up a bit. And when the obvious villain is on screen, usually he or she says/does something terrible, I find my anger rising and reach for my blood pressure medication. I can safely say that for the most part, "Smells Like Mean Spirit" hits its goals. I sometimes found myself laughing, yet wanting to reach through the screen and punch Nate and Rupert. And based on what I've seen so far, I'm sure some tears will be shed before the end of the season.
I would be remiss if I didn't mention the return of power couple Roy Kent (Brett Goldstein) and Keeley Jones (Juno Temple), who've both found what may turn out to be their dream jobs, but struggle to maintain a relationship due to their new schedules. Roy is still the aggressively brutal yet surprisingly sweet tough guy, and Keeley is still the insightful social media guru, but it'll be interesting to see how their relationship plays out throughout the final season.
There's so much more I could write about, but for the sake of brevity I won't. I'll be reviewing each episode the week they come out, so I'll add other thoughts about the series in general with each review. All you need to know right now is that Ted Lasso is back and, to borrow a sports cliche, in the best shape of his life.
"Smells Like Mean Spirit" gets an A-