Movie Review: 'Oblivion' Starring Tom Cruise, Morgan Freeman, Olga Kurylenko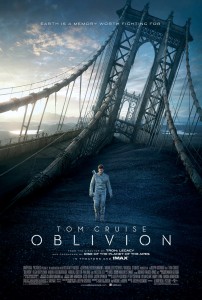 Tom Cruise returns to the world of Sc-Fi in Oblivion after almost a decade, starring in Stephen Speilberg's Minority Report and War of the Worlds in 2002 and 2005 respectively. If you are a fan of science fiction, you will no doubt be able to pick out similarities between this latest film and the staples of the genre from decades past. Luckily it comes off more as homage than imitation – an amalgamation, if you will, of ideas and concepts that have comprised the greatest Sci-Fi films of all time. Combined with one of the greatest action stars in history, you are in for a thrill ride.
The year is 2077, and Earth has fallen into a post-apocalyptic state after war with an alien race known as the Scavs. Jack Harper (Tom Cruise) is one of the last two known humans on the planet, who are responsible for monitoring the last of Earth's resources. Jack is tasked with maintaining and repairing the drones that keep the gigantic water harvesting devices safe from Scav attacks, while his partner Victoria (Andrea Riseborough) guides and watches over him. Their directives come from Sally (Melissa Leo) who is stationed with the remaining survivors at Titan – one of Saturn's moons. When a survivor named Julia (Olga Kurylenko) crash-lands on Earth, it becomes apparent that things aren't exactly what they seem – and Jack must find the truth before it's too late for him and Earth as he knows it.
The visuals in Oblivion are breathtaking, which isn't surprising seeing as director Joseph Kosinski is no stranger to science fiction and special effects. His first film was Tron Legacy, which was also spectacular to take in. Although the film wasn't shot in IMAX, Kosinski was able to post-convert it to the gigantic aspect ratio. The result is fantastic, and is meant to be seen in that format if at all possible.
The film is an amalgamation of 2001: A Space Odyssey, Wall-E, Moon, Star Wars, Blade Runner and countless classic Sci-Fi films all rolled together into one incredible package. Watching the film reminds the audience of these films that they love, but never does it come off as a blatant rip-off. Oblivion is highly intriguing and original, paying tribute to some of the greatest films in its genre while creating a world of its own. With how many films come out year after year, you would be hard pressed to find a film that is completely original and doesn't borrow from something – whether intentional or not. For those saying it's all been done before, it seems like more than a bit of an overstatement. The story is compelling, and has you on the edge of your seat while constantly guessing what will happen next.
Tom Cruise gives a charismatic and believable performance in the lead. He is alone for much of the film, but make watching him and his daily tasks interesting. The chemistry he shares with Andrea Riseborough comes off great, and it's intriguing to watch as their relationship unfolds. Morgan Freeman is also fantastic once he get some screen time, which stays consistent whenever he is on camera.
Although it is a bit early in the year, Oblivion is the first big summer blockbuster of 2013. It's simply early to the race. Tom Cruise gives the performance that only a leading man such as himself can deliver in an epic Sci-Fi thriller that pulls you in to futuristic Earth. With a great story, incredible special effects and constant throwbacks to some of the greatest films of the genre, it is the most exciting film we have seen so far this year – and it is just the beginning. And do yourself a favor, and see it in IMAX – you won't regret it.
Oblivion is a B.