'Mud' Starring Matthew McConaughey Opens April 26! Enter to Win Passes to the St. Louis Advance Screening!
Enter to win a pass for two!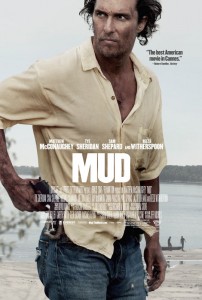 MUD is an adventure about two boys, Ellis (Tye Sheridan) and his friend Neckbone (Jacob Lofland), who find a man named Mud (Matthew McConnaughey) hiding out on an island in the Mississippi. Mud describes fantastic scenarios—he killed a man in Texas and vengeful bounty hunters are coming to get him. He says he is planning to meet and escape with the love of his life, Juniper (Reese Witherspoon), who is waiting for him in town. Skeptical but intrigued, Ellis and Neckbone agree to help him. It isn't long until Mud's visions come true and their small town is besieged by a beautiful girl with a line of bounty hunters in tow.
Cast: Matthew McConaughey, Tye Sheridan, Sam Shepard, Reese Witherspoon
Director: Jeff Nichols
Use the contest app below to "like" ReviewSTL on Facebook  – then tweet, share, or comment for additional entries!
Winners will be chosen at random from all entries. Supplies are limited. Limit one (1) pass per person, passes admit (2) two. Sponsor's employees and their dependants are ineligible. Screening is overbooked to ensure capacity. Please refer to passes for any other possible restrictions. NO PURCHASE NECESSARY.
Screening will take place Monday, April 22 at Wehrenberg Ronnie's 20 Cine (7pm).