Movie Review: 'Need For Speed' Starring Aaron Paul, Dominic Cooper, Imogen Poots
"They just don't make them like they used to."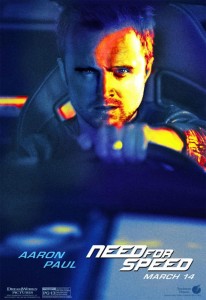 Prior to seeing Need for Speed, the above statement summed up my thoughts about "car" movies as of late. Last year we were subjected to the travesty that was Getaway, which was preceded by the ridiculously unrealistic Fast & Furious 6 (don't get me wrong, I enjoyed Fast Five – but this was just too much). Where are the great car chases like we saw in Gone In 60 Seconds, or Bullitt or The French Connection? Or more recently Ronin or The Italian Job (the remake was pretty good). This past week I had my answer – and it is Need for Speed.
Let's get one thing straight – the film isn't going to win an Oscar for best screenplay, or acting. But those car scenes. The script is just one big excuse to get from race to chase, which fortunately make up a majority of the movie.
As for the story, Tobey (Aaron Paul) is a mechanic who took over his father's auto body after his passing. He's constantly struggling to pay the mortgage, as well as his handful of friends who work there, and is only able to stay afloat a little longer because of his winning from street racing. When Dino (Dominic Cooper), an old rival who made it big in Formula 1, comes back to town with an offer to fix up a rare car – Tobey has no option but to accept the offer. But when egos get in the way, the two illegally race at high speeds in rare concept cars which prove to be fatal to their friend Pete (Harrison Gilbertson). Tobey ends up in jail, while Dino gets off scot-free. When he gets out, the one thing on Tobey's mind is revenge.
The most impressive thing about the film, aside from the spectacular car racing and chase scenes, is that no CGI was used in the making. None. Director Scott Waugh decided to go the practical route for all of the stunts in the film – some of which are actually pretty mind-blowing. The end result is some amazing action, which is reminiscent of the classic car films we grew up with. Equally impressive is the fact at Aaron Paul was behind the wheel for many of the scenes, taking cars up to speeds of around 130 mph. Scenes that required cars to fly through the air were done by stuntmen – but still, they actually happened. There is even a car lifted off the edge of a cliff by helicopter at one point.
As for the vehicles in the film, it's any car fanatic's fantasy. The souped-up 2014 Shelby GT500 Mustang that stars in much of the film is only the tip of the iceberg, compared to its co-stars Koenigsegg, Lamborghini, Mercedes, McLaren – and many others. The cast and crew really pushed these cars to the limit to deliver some jaw-dropping action sequences.
Those who know Aaron Paul, primarily from his work on the Emmy-winningBreaking Bad, won't be surprised that his charisma works in front of a camera. He isn't your typical action star, but it just works. Imogen Poots is charming as his co-star, who travels across the country with him. There's more than meets the eye with her character, who adds a good amount of levity to otherwise serious situations. The rest of the cast, including Scott Mescudi, Rami Malek and Ramon Rodriguez all do well in their roles.
Michael Keaton was in the movie. Yes, Michael Keaton. Why? Your guess is as good as mine. If there is an award for chewing the scenery, it goes to him for 2014. He plays an over-the-top racing fanatic who hosts a streaming web show from his house, as well as a top-secret underground racing event called the De Leon. All of his scenes take place in one room, and you could tell it was probably a one or two day shoot to add some star power. In any event, not particularly impressive for Keaton – but it doesn't matter much in the end.
Come for the cars, not for the stars. Much more impressive than the acting is the action, and the real stars of the show are the cars. Aaron Paul and his co-stars pull off fine performances, but I guarantee they won't be what you are watching a majority of the time. Need for Speed has some of the best car stunts captured on film in a long time, and knowing that they were 100% real is worth the price of admission alone.
Need for Speed is a B.