Movie Review: 'The Muppets' Starring Jason Segal, Amy Adams, Kermit the Frog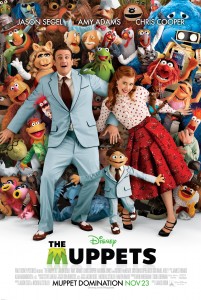 Growing up, who didn't watch the Muppets? For half a century, Jim Henson's creations filled our living rooms with joy and laughter – but recently ceased to exist.  Fortunately for us, enough time has passed where it seemed fit for a revival. And even better, it was executed perfectly. MANAMANA.
Walter (Peter Linz) and Gary (Jason Segel) are two brothers who grew up the best of friends.  They've stuck together through thick and thin, but there was something very different about the two of them. Primarily, Walter is a Muppet and Gary is a man.  Oblivious to their differences, the two remained virtually inseparable.  Eventually Mary (Amy Adams) comes into Gary's life, and wants to be more than the third wheel.  Her and Gary plan what she hopes to be a romantic getaway to Los Angeles to celebrate their anniversary. But of course her plans are spoiled by Gary purchasing a third ticket for Walter to fulfill one of his biggest dreams – to take the Muppet Studio tour. While there, the trio discovers that people have pretty much forgotten about the Muppets, and the studio is in shambles. They soon hear of an evil plot devised by evil oil barron Tex Richman (Chris Cooper) to destroy what remains of his beloved heroes. With the help of his friends, Walter must find Kermit and the rest of the gang and help save their legacy.
Going into any movie that is aimed at a young audience, I can only hope that there will be enough going on for parents to keep them entertained.  With this movie it definitely helps that there is a nostalgia factor, but even ignoring that it still hits it out of the park. Not since Cloudy With a Chance of Meatballs have I had as much fun and laughed so hard at a kid's movie.  The movie does everything right, and is everything that it aims to be. It is perfectly cheesy at times, and just as quickly can switch gears into something emotional or action-packed.
I have always been a big fan of Jason Segal, and I have to give him big props for putting The Muppets on the big screen.  An avid fan of the franchise, he is responsible for bringing it back from the dead and does an incredible job with it.  Segal is one of the producers of the film, co-wrote it and is one of the lead actors. His love for the characters clearly shows, and you can tell he had a lot of fun with the project.  Him and Amy Adams are great, both playing characters from "Smalltown, USA" – a perfect and quiet little town that is far from the troubles of the rest of the world. Adams definitely channeled her character from Enchanted for this one, as there are plenty of sporadic song and dance numbers throughout the film.
I have to give huge props to the voice actors, who don't get enough recognition for what they do.  All of the Muppets that we know and love are back for this movie, including: Kermit, Beaker, Statler, Rizzo (Steve Whitmire), Miss Piggy, Fozzie Bear, Animal, Sam Eagle, Marvin Suggs (Eric Jacobson), Gonzo, Dr. Bunsen Honeydew, Zoot, Beauregard, Waldorf (Dave Goelz), Swedish Chef, Rowlf, Dr. Teeth, Pepe the Prawn, Bobo the Bear (Bill Barretta), Scooter, Janice (David Rudman), Sgt. Floyd Pepper, Camilla, Sweetums, Lew Zealand and Uncle Deadly (Matt Vogel).  These six actors are responsible for most of what makes the movie so great, and the voices are just as perfect as we remember them.
There is a little bit of everything in this movie for everyone.  For fans of the Muppets it brings back a lot of great memories, and reprises some of the great songs from the show like "Mah Nà Mah Nà" and "Rainbow Connection." It will also create a lot of new fans of the show, and gives parents a chance to go back and watch the old shows with their kids. Once the movie gets going, there is enough happening to keep the older audience interested while giving the kids a ton of rich and vibrant characters to look at. This is some of the most fun you will have at the theater with your family this year.
The Muppets is an A.