Movie Review: Morgan Spurlock's 'Comic-Con Episode IV: A Fan's Hope'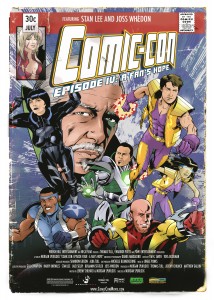 After his breakout hit Super Size Me, Morgan Spurlock quickly catapulted to the top of the documentary world. Since he has released films such as Where in the World is Osama Bin Laden and Pom Wonderful's The Greatest Movie Ever Sold. His most recent entry is the self proclaimed "love letter" to the San Diego Comic-Con. A four day event held annually to celebrate (and market) all that pop culture has to offer.  To give a sense of scope, in 2011, the San Diego Comic-Con International attracted over 126,000 attendees, with tickets selling out before the end of the 2010 convention.
Following several attendees and exhibitors, Comic-Con Episode IV: A Fan's Hope tracks the passion and dedication of its subjects. It seeks to understand why so many have flocked to this convention as a Mecca for everything geek and nerd related. For two aspiring young artists, Comic-Con serves as a springboard to recognition. Hoping to have their portfolio reviewed by comic book publishers, they learn what it actually takes to make it in the world of comics.
The film also follows fans of various entertainment properties. A team of costume designers led by a young woman named Holly Conrad shows the level of talent and dedication as they design and model intricate costumes based off of the popular video game franchise Mass Effect. It's ultimately these stories that showcase why people flock to this convention.
This is a film primarily for the geeks and nerds that already know what Comic-Con is. For those that can't make the pilgrimage to San Diego every year, Comic-Con Episode IV: A Fan's Hope allows the sense of community and camaraderie to be expressed through film. Typically when we're exposed to adults wearing super hero costumes, it's accompanied with pointed fingers and a belittling smirk. This film attempts to show the passion that is behind the spectacle. That these grown men dressing as Strormtroopers maybe aren't all that different from fans at a football game painted from head to toe in their team's colors, or sporting a Cheesehead or Viking helmet.
The only other way this film may interest you is if you've struggled to understand nerd culture as a whole. For those that just "don't get it", this may be the film to illustrate how or why your brother/sister/father/daughter still collects action figures or reads comic books.
The film doesn't offer much in the way of conflict or story. It's essentially an advertisement for Comic-Con and this culture. So if that interests you and you have an hour and a half to spare, check it out.
Comic-Con Episode IV: A Fan's Hope was released for Video On Demand on April 6th and can be viewed through iTunes, Amazon Instant Video, local cable providers as well as several other outlets. For a complete list of supported VOD services and limited theatrical screenings, check out: http://comicconmovie.com/
-Worth Your Money-
Not Worth Your Money
Worth Somebody Else's Money