Movie Review: 'The Cabin in the Woods' Starring Kristen Connolly, Chris Hemsworth, Richard Jenkins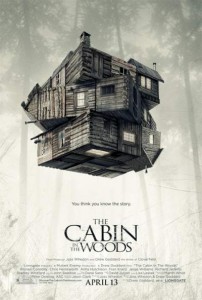 You've seen it done before, again and again. Except for this time you haven't. The premise of The Cabin in the Woods sounds like every cheap teenage horror movie that has came out in the past thirty years; all of them a variation of one another. But this film has been kept so under wraps as it has sat on the shelf the last three years, that walking out of the theater is sure to have you thinking something completely different than you were going in.
Five teenage friends are taking a vacation to a creepy old cabin in the middle of nowhere. Sound familiar? You've got the good girl (Kristen Connolly), the jock (Chris Hemsworth), the popular girl (Anna Hutchison), the smart guy (Jesse Williams), and the stoner (Fran Kranz). So far, so good. You've got the run-down gas station stop, with the creepy attendant. Check. There is the obligatory cabin in the woods, and of course the awaking of demons and creatures from their slumber. Bingo. And naturally you've got Richard Jenkins and Richard Sitterson in a control room. Say what? Let's just say this – the less questions you ask, the better.
Joss Whedon (Buffy the Vampire Slayer, Firefly) and Drew Goddard (Cloverfield, LOST) have created the freshest horror movie that we have seen in a long time. In the spirit of LOST, there are tons of little hidden gems and homages to other horror films, all which will make the movie great to watch over and over again. I had no idea what to expect going into the film, but I trusted the names attached to it and expected good things from what I heard. I thought I was going into what would simply be a fresh take on a worn out genre, but what I got was so much more.
It is hard not to say too much about the film, but really anything else would just give away some of that mystery that makes it so great. What I will say is that The Cabin in the Woods represents a perfect deconstruction of the horror genre, doing it in a way that we have never seen before. If you are worried about it being too scary, or gory – it really isn't. We have seen far, far worse in the past decade of "Torture Porn" with the likes of Saw and Hostile. The movie is cleverly written and well acted, and is sure to be a success with word of mouth and repeat viewings.
The Cabin in the Woods is an A.