Movie Review: "Monte Carlo" Staring Selena Gomez, Katie Cassidy, Leighton Meester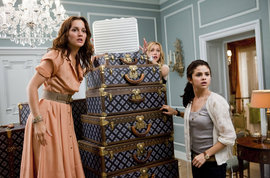 If you are looking for a great film to see this Summer, then there is no better film out there than the latest film starring Disney Super Star Selena Gomez!
"Monte Carlo" follows three ladies: Grace (Selena Gomez) who is a recent high school graduate, Emma (Katie Cassidy) who is Grace's older sister, and Meg (Leighton Meester) who is their stepsister. The three of them set out on the trip of a lifetime to Paris and the trip doesn't start off as well as they had hoped when they set out from Texas. It starts with them in a crappy hotel and set up with a lousy tour group. They miss their tour bus, but the trip turns completely around when Grace is mistaken for British Heiress Cordellia Winthrop Scott (who Gomez plays as well). It takes  a few minutes for them to take it in, and a spirited argument between rival siblings Emma and Meg, and they eventually decide they want to pursue becoming Ms. Scott and once Grace does, her life gets turned into a life of complete and utter luxury.
Along the way, two of them come across love. Emma has a boyfriend back home who eventually surprises her in Monte Carlo. The funny thing about Grace's relationship with Theo (Pierre Boulanger), who is also royalty, is the fact that he thinks she is Cordellia Winthrop Scott, and he has fallen head over heals for someone who isn't who she says she is. Every time she attempts to tell him who she actually is she is stopped in her tracks, until Ms. Scott shows up in the flesh and puts an end to what Theo thought was a booming relationship. Meg meets dashing Aussie, Riley (Luke Bracey), at a museum in Paris and she continually runs into him until their inevitable encounter in the lovely Monte Carlo. They run wildly throughout the city and Meg eventually decides to stay in Europe with him.
Upon Ms. Scott's return, she finds her most prized possession, a multi-million dollar necklace, to be missing.  After it is returned, however, she still wants to get the police involved.  But to no avail, as the police side with Grace and allow her to auction off the prized necklace to raise money for under privileged schools. Still, with all this, Theo decides it would be best to leave until, in a final scene for the ages, him and Grace meet once again, six months later, in one of the before mentioned under privileged school's that Grace is volunteering in.
Coming out of the theater I was in complete awe of the movie because it was an epic story and I don't know when I have ever seen a movie that was written that well. All of the actors in this film were top notch and they hit the mark in every way imaginable. The shots of Paris and Monte Carlo were absolutely stunning and I don't know when a movie has ever caught the essence of either of those cities in the way that the camera crew of "Monte Carlo" caught the city….just stunning. I highly recommend that everyone goes out and sees this movie as soon as humanly possible, because the longer you wait the longer you are tormenting yourself and you really don't want all of your friends to see this and brag about how awesome this fil………(screeches tires)
Okay I cannot go on living that lie any longer. This film is not good at all. The plot has been done before (in better ways I might add) and the acting abilities of these actors was not put to the test in the slightest bit. Really the only part that was any good, acting wise, was Selena Gomez' role as Cordellia Winthrop Scott (which I might also add was way too little of a part in the movie). They did catch Paris in its true form which is extremely dirty and I didn't realize how bad of shape the Eiffel Tower is in (if that was even the real Eiffel Tower).
Basically I would not waste my time, money, or energy on seeing this movie. I really don't think that any of the people in the demographic for this movie are going to like this film….that's how bad it is. So, long story short this movie is crap and I am disappointed that I got roped into seeing and spending two hours of my limited time sitting through this movie.