Movie Review: 'Keanu' Starring Jordan Peele, Keegan-Michael Key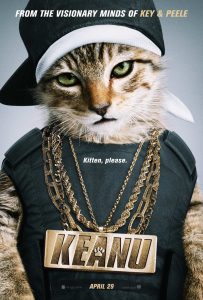 After over a decade of killing it in TV sketch comedy, Jordan Peele and Keegan-Michael Key are finally on the big screen together in their first feature film.
In Keanu, the comedy duo delivers almost exactly what you'd expect from a bit on their brilliant Comedy Central show, Key and Peele. The movie picks up on a thread they started in a sketch on the show called A Cappella, featuring the two as rivals trying to join extracurricular groups full of the whitest white boys. In the film, they continue exploring variations of racial identity, supported by a healthy dose of slapstick and the absolutely absurd.
Written by Peele and a writer and co-producer of Key & Peele, Alex Rubens, the plot itself is really more of a parody of a plot, highlighted by the infeasible catalyst for the whole debacle: a bunch of hardened drug dealers and one recently dumped stoner fighting over possession of a wee little kitten.
In the opening scene, a little orphaned kitten wanders away from his recently murdered owner. Rell (Peele), in a post-breakup stupor, ends up finding the furball on his doorstep and his broken heart is instantly mended by his cuddly new companion. After a night out with his best friend and corporate nerd, Clarence (Key), he returns home to find his apartment has been broken into – and his precious pet Keanu has been catnapped.
They figure out that the burglars were probably after the stash of Rell's next door neighbor and drug dealer, Hulka, played by Will Forte. (To drive home how far removed Rell is from the streets; his dealer is a white guy in corn rows and a Cross Colours sweatshirt, like a more suburban version of Riff Raff.)
After following the burglarly breadcrumb trail back to a strip club, they have to face the kingpin, Cheddar (Method Man), and his right-hand woman, Hi-C (Tiffany Haddish). At this point, Rell and Clarence realize how badly they reek of affluence. To successfully infiltrate the organization, they have to give off the vibe that they could, uh…screw some fellas the heck up. Cue some hastily chosen nicknames, slouched postures, and lots of R-rated language.
Of course as they spend time with Cheddar's employees, everyone starts learning about each other and themselves, and growing as people. And that's where the formula diverges from the heightened state of a Key & Peele sketch. Unfortunately, it's hard for a movie to exist in two universes, and the humanization never fully plays out for the drug crew, particularly Trunk (Darrell Britt-Gibson) and Bud (Jason Mitchell, hot off of his break-out role as Eazy-E in Straight Outta Compton).
With the n-word-laden punchline delivered somewhere in the second act, there isn't quite as much hilarity in the conclusion of the film. Luckily, the stream of escalating outlandishness, a Key & Peele staple, keeps things entertaining. The whole thing is buoyed by the presence of sweet, precious little Keanu throughout the action. If you feel yourself getting distracted, just wait a few minutes and some high-pitched mewing and adorable nose licking will have you SQUEE-ing in delight.