Movie Review: 'Hotel Transylvania' Starring Adam Sandler, Andy Samberg, Kevin James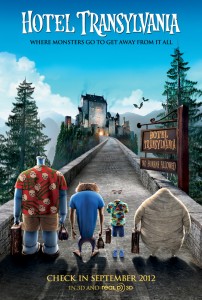 It's fitting that a movie featuring classic monsters is assembled from so many parts that you'd half-expect to discover it was directed by Doctor Frankenstein himself. Such is the case with Hotel Transylvania. Let's count them off, shall we? Adam Sandler voices Count Dracula, an over protective father scared of letting his child face the world unsupervised (#1: Finding Nemo) because it's full of scary humans (#2: Monsters, Inc.). But don't let his villainous exterior fool you. He's really a loving father (#3: Despicable Me). In honor of his daughter's birthday all of the creatures gather to celebrate (#4: Mad Monster Party).
The film has a solid pedigree having been written by Peter Baynham (Borat) and Robert Smigel (the creator and voice of Triumph the Insult Comic Dog) and directed by Genndy Tartakovsky (Dexter's Laboratory, Samurai Jack). Unfortunately it never quite overcomes its hodgepodge nature. There's the occasional funny joke or witty pun but the story is so busy serving multiple masters that it never manages to get into any kind of a rhythm. When the film does score the sporadic direct hit it only makes the proceedings all the more frustrating; leaving us wondering what the film might have been.
On the upside, Sandler tones down his usual histrionics which is ironic given his penchant for goofy voices. And the rest of the voice cast is strong, including the likes of Andy Samberg, Kevin James, Steve Buscemi and David Spade to name a few. The character design is clever and there are some solid sight gags. Unfortunately the film never successfully connects its vast array of elements. While it's mildly entertaining, it never rises above the level of disposable.
On a scale of 1 to 10, with 10 being Mad Monster Party and 1 being Frankenstein Jr., Hotel Transylvania gets a 6.