Movie Review: 'Gangster Squad' Starring Josh Brolin, Ryan Gosling, Sean Penn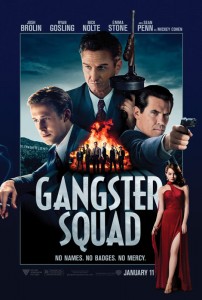 Zombieland was one of my favorite movies from 2009. It was fresh, fun, and didn't take itself too seriously. Director Ruben Fleischer wasn't trying to be 28 Days Later, or Dawn of the Dead, but rather created his own style – the result of which was a clever and extremely entertaining film. With his latest film Gangster Squad, Fleischer isn't trying to make the next Godfather, so much as try and put a unique spin on the diluted gangster genre we have seen for decades. What we get is something like The Magnificent Seven meets The Untouchables, and it's a whole lot of fun.
Organized Crime had made it's way from the East Coast to Chicago already by the 1940s, and was steadily expanding West. Public enemy No. 1 for the LAPD is boxer turned crook Mickey Cohen (Sean Penn), a mobster who lacks sophistication but makes up for it with his taste for violence. In an attempt to keep organized crime from taking over Los Angeles, Police Chief Parker (Nick Nolte) recruits Sgt. John O'Mara (Josh Brolin) to put together an off-the-books team of cops to take down Cohen and his empire. In an attempt to keep the dirty cops on Cohen's payroll from catching wind of the operation, O'Mara assembles a mixed team of gunmen who he knows have seen their fare share of troubles. Along for the ride is his friend and colleague Jerry (Ryan Gosling), quick-shooting lawman Max Kennard (Robert Patrick) and his protege Navidad (Michael Peña), surveillance expert Officer Keeler (Giovanni Ribisi) and beat cop Coleman Harris (Anthony Mackie).
If you are familiar with Fleischer's previous films, you know that style is not something the director neglects. Gangster Squad has a unique look to it, appearing well polished and more glossy than the rugged gangster films we are accustomed to. Several shots were obviously filmed to be artistic, rather than move along the story. But they are never so abundant, nor do they feel so out of place, that they come off as gimmicky. The strong attention to visuals added a certain finesse that the genre so often lacks, and made it even more entertaining.
The film features a great cast, and although many were underutilized, it still makes for a fun experience. Josh Brolin plays a WWII veteran turned cop who knows nothing else but to keep on fighting. While often putting his duty before himself and his family, it is his dedication that gives LA a fighting chance against Cohen and his gangsters. Ryan Gosling plays his right-hand man, who seems to be looking for trouble when he decides to make Cohen's love interest, Grace Faraday (Emma Stone), his next conquest. Brolin and Gossling have a great chemistry together, as do Gossling and Stone (as witnessed in Crazy, Stupid, Love). It is fun to see Robert Patrick in a Sam Elliot type of role, playing a cop who seems to have been meant for the wild west. His gun-slinging skills keep things entertaining, as does his apprentice played by Michael Peña while he stumbles with the pistol. Ribisi and Mackie also round out the squad nicely.
Sean Penn gives the most polarizing performance of the film. Sure, it is over-the-top and seems a bit cartoonish at times. But with an actor like Penn, you know he has no problem playing the part straight. I believe he plays the character exactly how it is supposed to be. He isn't trying to be Vito Corleone, or Al Capone – or even Tony Montana. Penn plays a mobster who has risen through the ranks and gotten too big for his own good. Cohen thinks he is invincible, and that he is doing something no one else has done before him. His character is ridiculous, but that is also what makes it fun to watch. Think of him as more of a Dick Tracey Villain than Robert De Niro's character in Goodfellas. If you can accept that, he is a whole lot more fun to watch.
If you are a fan of the gangster movie genre, and looking for a movie that is extremely entertaining, Gangster Squad is right up your alley. The film features a great cast and a polished look that makes it stand out amongst its peers. Comparing it to some of the greatest mafia films in history would be unfair, as it is a different kind of movie. I would liken it more to Public Enemies than I would Scarface, and if you are okay with that you should be in for a fun time.
Gangster Squad is a B.