STOMP Brings Unique Music to the Fabulous Fox Theater January 11-13! Interview With Prop Master Sam Weaver!
STOMP returns to the Fabulous Fox Theatre in St. Louis from January 11-13! Tickets are on sale now at MetroTix or call 314-534-1111 (starting at $23).
We had the chance to speak with Sam Weaver, Prop Master for the North American Tour. We talked to Sam about how he got involved with STOMP, what it takes to turn a broom and a garbage can into an instrument, and how many prop replacements the show goes through in a week.
Kevin: How long have you been a part of STOMP, and how did you get such a cool job?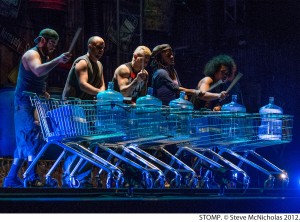 Sam: I was one of the Associate Technical Directors at the Tennessee Performing Arts Center when the tour first came through in October of 1995. I loved the show and gave my business card to the Production Manager but didn't think much of it. He called me up a few months later and I started working for STOMP as the Production Carpenter in March of
1996. That job evolved into the Swing Tech for the 2 America tours where I would substitute for the carpentry, prop, lighting, audio and production management personnel on both tours. I did that for about five years, but in 2001 I took the prop job full time. Since then, I've been the lighting director for the San Francisco show and the Production Manager for the Boston show. In 2004, I went back to the tour full time as the Prop Master and have been ever since.
Kevin: Do you have a background in performing? What helped you get the skills required to become prop master?
Sam: I kind of grew up backstage as both of my parents performed. I got involved in technical theater first. During my high school years, I was in several musicals and plays at my local community theater in Macon, Georgia. That evolved into studying ballet. I had a professional ballet career for 10 years and danced with many companies including the Tampa Ballet, The Washington Ballet, Ballet Colorado and Les Ballets de Monte-Carlo. When I hung up my tights, I went right back to technical theater which was a lot less painful.
Kevin: When it comes to choosing such unique instruments for the show, what is the process and who is involved?
Sam: The "instruments" are chosen by Luke Cresswell and Steve McNicholas who wrote the show. They play around with stuff to study the look, feel and sound of it. Then they "workshop" it with some of the performers and write the music and blocking or choreography for that piece.
Kevin: When a performer first learns to use such a new and unique instrument, like a broom or garbage bin, what is the learning curve? How easily do the props get destroyed during the learning process?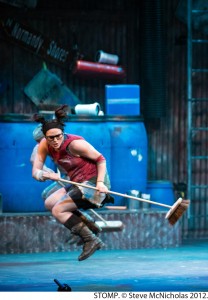 Sam: Every performer is different. Some pick up one thing and feel natural with it immediately but not so with something else so they have to practice with that thing or that music a little longer. We recently added shopping carts to the show. It's a great number. The music is mostly in 5/4 time which makes it awesome and difficult at the same time. Those carts, or Trolleys, as they are know to the British, took quite a beating during the rehearsal week.
Kevin: If a prop is destroyed during a performance, how many extras do you keep on hand – and have you ever ran out of a particular prop in the middle of a show?
Sam: During the show, the carpenter, Graham Stuart and I are standing in the wings ready to throw more brooms onstage as those in the hands of the performers break. They go through about 30 brooms in a week and that's just the first number in the show. Everything that is made of wood is going to break. You just don't know when and where so you have to be ready.
Kevin: Are all props created equal? What do you look for in a broom when choosing that particular item? What other unique characteristics do you look for in the selection process?
Sam: Steve McNicholas is kind of the "mad scientist" in that department but us American stagehands have had our hand in that a bit too. There is a fine balance between durability and ease of handling for nearly every instrument in the show.
Kevin: Do you ever build your own props for the show?
Sam: Since I don't write the music, no, but I have made many modifications to existing props over the years.
Kevin: Is there a difference in the prop selection for the tour, compared to the shows in New York and overseas?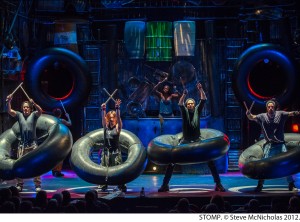 Sam: Only one piece that I can think of. That is the "Donut" number, or inner-tubes. The New York stage is a little bit narrower than what we play on the road usually, so their Donuts are a couple of inches less in diameter.
Kevin: Are there any props that aren't feasible to bring on tour, or are too expensive, that you would like incorporated into STOMP?
Sam: Live animals, or maybe a number involving beer. I know a lot about that. (Just kidding.) Luckily, Luke and Steve take that all into consideration when they write a new piece and add it to the show.
Kevin: Over the years, have you ever performed in the show or had to fill in for anyone?
Sam: No, luckily. I leave that to the professionals.
Kevin: What is your favorite part of the job?
Sam: Going to new places. Not flying, as that has become quite a chore in this country but seeing new places – especially if the are geographically interesting. Stomp has taken me to 8 countries and all 50 states.
Kevin: What are your interests outside of STOMP? Do you have any side projects you work on?
Sam: I'm a cycling junkie. I travel with my road bike and go for rides when I have the time and I follow pro racing. When the weather's good, I'm usually out riding, when it's not, I'm in a hotel room somewhere trying to watch live streaming video of some European race with Flemish commentators!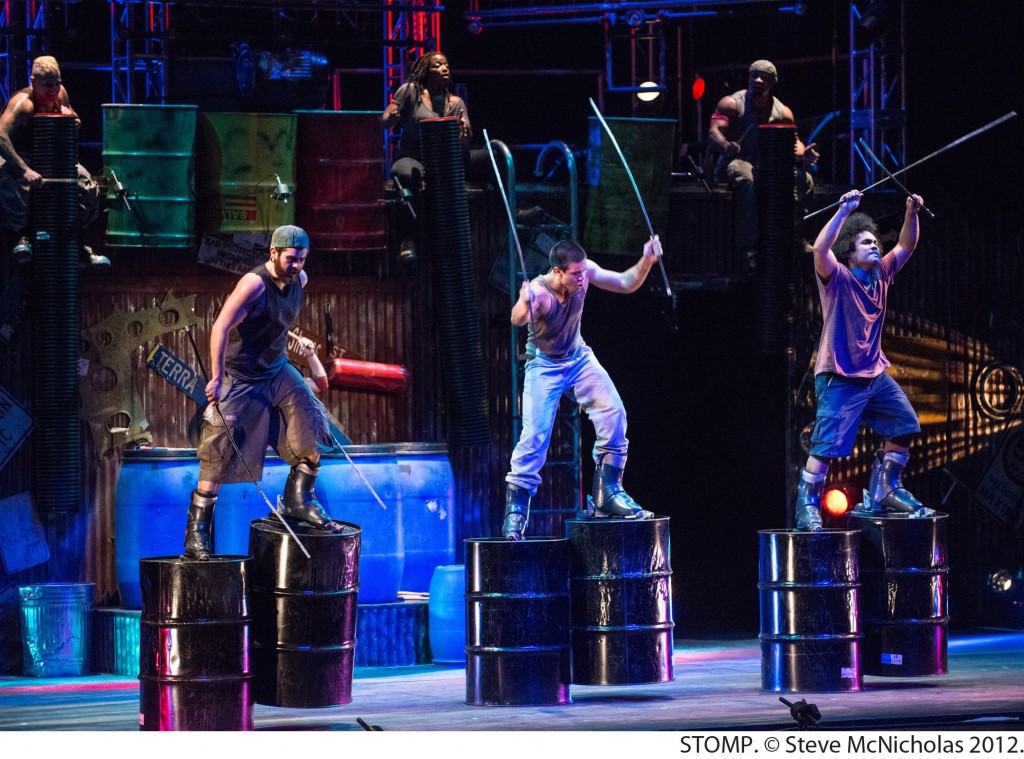 ---
STOMP returns to the Fabulous Fox Theatre in St. Louis from January 11-13! Tickets are on sale now at MetroTix or call 314-534-1111 (starting at $23).