Movie Review: 'Flight' Starring Denzel Washington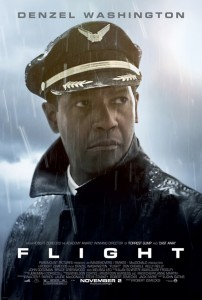 Is it a flaw when characters are almost too real? The shock value of Denzel Washington's Whip Whitaker is astounding, made possible in part by the visceral performance of Washington. It's never easy to watch a man spiral out of control, especially when you sympathize with him in odd ways. Whitaker is a veteran airline pilot who struggles with alcohol and drug addiction, which becomes the driving force of the film. After an all night bender with a flight attendent, Whitaker levels out his drunkenness by doing a couple lines of cocaine, and boarding a flight. Doing this activity before flying is already a bit dangerous, but it's even more so when you are the pilot.
The hook of the film is the intense scenes that follow after Whitaker boards the plane. After a rocky takeoff where Whitaker expertly guides his crew into a safe air space, things seem to be going smoothly. Whitaker makes himself a cocktail, and falls into a stupor again. Once the plane begins a nose dive, Whitaker takes controls of the situation by inverting the plane to level it, and crash land it safely in a field. Whitaker despite his state is able to save almost everyone on board from certain death. These harrowing moments are some of the most exciting of the film.
Unfortunately, the film never climbs towards that level again. It isn't overly detrimental as the film becomes a top notch character study into the mind of an addict as he struggles with his morality. As interesting as Whitaker is as a character, he also becomes tiring during the run time. At almost 2 hours and 20 minutes, the film falls over itself at times. It becomes easy to wonder if you really dislike the character or if the motivation of the character is being repeated too often.
Denzel Washington will most likely garner at least another Academy Award nomination for carrying this film in a way that many other couldn't. He'll have some stiff competition (especially from Daniel Day-Lewis in Lincoln), but no one would be able to argue a win.
Flight starts out as a tense thriller and ends as dramatic story about addiction. Despite the issue at hand, there is enough levity in the film (supplied in healthy amounts by John Goodman) to keep the film from becoming too heavy. It isn't perfect, but Washington is.
Grade: B+