Movie Review: 'Wreck-It Ralph' Starring John C. Reilly, Jack McBrayer, Jane Lynch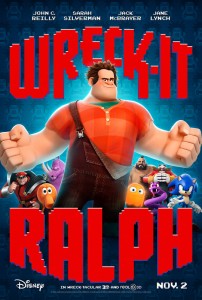 When did video games become cool? I know it's been a while now, but it is hard to pinpoint when exactly it happened. I remember a time growing up where I was sitting at home playing 'Super Mario World' instead of going outside to play sports – and I was the odd man out. Now if you decline an invitation to play 'Halo,' or the latest 'Gears of War' or 'Call of Duty,' you are considered lame. My how the times have changed. Which is why I guess I shouldn't be surprised that a film like Wreck-It Ralph, which ten years ago I never thought I'd see, is prime for release in 2012. It is a celebration of Video Games, both classic and modern, and does a terrific job of showcasing everything us gamers love.
"Wreck-It" Ralph (John C. Reilly) is a 9-foot-tall, 643-pound "bad guy" who lives in an old-school arcade game called "Fix-It Felix Jr." For the last thirty years his job has been to wreck a building over and over again, while Fix-It Felix Jr. (Jack McBrayer) fixes it with his magic hammer. Felix is praised and awarded medals at his lavish penthouse, while Ralph is feared and spends the night sleeping in a pile of bricks. When Ralph realizes that it is the 30th anniversary of their game and he isn't invited to celebrate, he sets out to win a medal of his own – in the hopes to be finally accepted by his fellow characters in the game. His journey leads him to several games via Game Central Station, a hub connecting all of the machines at an arcade, and he meets several characters along the way to aid him on his quest.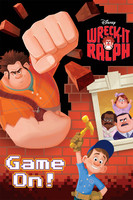 For those who consider themselves gamers, there isn't much not-to-love about Wreck-It Ralph. For starters the entire film revolves around the main character hopping from video game to video game, meeting classic characters from the 80s and 90s along the way. We meet Q*bert and Coily, Paperboy, Ken and Ryu, Sonic and Dr. Robotnik, and even Bowser. There is a particular scene early on in the film where Ralph attends "BAD-ANON," a video game bad guy support group where we meet villains from games like Pac-Man, Mortal Kombat, Street Fighter, Sonic the Hedgehog and more. It is one of the first scenes that drew me in from the trailer, and is executed so well. Zangief tells Ralph "you are bad guy… but this does not mean you are 'bad guy.'" This sets him off on his quest, where he meets Sergeant Calhoun (Jane Lynch) in 'Hero's Duty' and Vanellope von Schweetz in 'Sugar Rush.' The latter is where most of the story takes place once it starts up – a sugar-coated, overly sweet racing game which takes place in a kingdom ruled by King Candy (Alan Tudyk).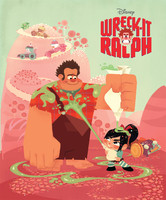 Whether you grew up playing 'Pong' in college, or your first console was the Nintendo Wii – there is something in Wreck-It Ralph for everyone. Even though it is a family-friendly film that is geared toward the younger crowd, adults will have just as much fun – if not more. The story is entertaining, with homages to classic games around every turn. And continually trying to spot another classic character is worth repeat viewings alone. If video games hold a special place in your heart like they do for me, this is a movie you will not want to miss.
Wreck-It Ralph is an A.