Movie Review: 'Fast and Furious 6' Starring Vin Diesel, Paul Walker, Dwayne "The Rock" Johnson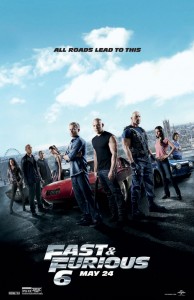 Fast and Furious 6 is ridiculous, totally illogical, and probably one of the best action movies of the summer. Justin Lin hits a homerun with the 6th installment in the FF franchise, thanks to great characters and some of the most over the top action sequence to ever hit the big screen.
The focus of this movie is evident from the start, as stated by Dom (Vin Diesel) – family and home. While Diesel is a part of some of the most gravity and physics-defying action sequences, he makes no qualms that the purpose of Fast and Furious 6 is to save his family. His family consists of characters from each of the first five films. Brian, played by Paul Walker, is still up to his same old tricks; trying to play a criminal cop, while bumping uglies with Toretto's sister, Mia, played by Jordana Brewster. Mia and Brian now have an infant son named Jack, who is already getting lectured by Dom and Brian on what type of racing machine he will drive when old enough. Also back for the 6th film are Chris 'Ludacris' Bridges and Tyrese Gibson. The pair make for a good source of comic relief in quite a few scenes in the film. Letty, Dom's girlfriend, played by Michelle Rodriguez, also returns. Letty was thought to be dead at the conclusion of Fast 5. However, she has amnesia, which is explained between car crashes and explosions in the film. She is working for the wrong set of criminals when Dom finds her. Finally, the man who was mainly responsible for the fifth installment being so entertaining, Dwayne Johnson, returns as Luke Hobbs, the muscle-bound officer of the law. While Hobbs was after Dom and his crew in FF5, in the new film, he is working with them to stop a world renowned criminal, played by Luke Evans.
A newcomer to the series, and probably one of the only weak links in the acting, is Gina Carano. All that being said, Carano's acting (or lack thereof) can be forgiven do to her being pretty easy on the eyes – not to mention one bad-ass chick. Speaking of bad-ass, Johnson (aka "The Rock") is like the Energizer Bunny on steroids, as he hands out beat down after beat down, while dishing out orders to Dom's crew. Not to be outdone, Diesel's performance is actually very good. While, he drops a few memorable one-liners, while looking buff and tough, we also see his human side, as he pines for his love to come home.
The film opens with a rundown of the first five, just in case you missed one, or may have forgotten how each character got to where they are when the film begins. Each of our main characters are enjoying their $100 million that was stolen in Fast Five, while Brian and Dom are clearly bored living on an island away from civilization. Johnson shows up on Dom's doorstep with a photo of Letty and asking for his help. Once Dom sees the photo, the group gets back together, in hopes of bringing Letty home to reunite their family. But, in order to do that, they must bring down an elusive group of criminals, who closely mirror Dom and his gang. In one of the more lighthearted and funny scenes, Gibson's character is comparing each European criminal to all our FF characters.
Once Hobbs and Dom have the gang back together again, all out insanity ensues. We get fast cars, explosions, shoot-outs, fist fights, and more, and that's in the first hour! Forget your regular car chases, director Justin Lin ups the antee in Fast and Furious 6 using a tank and even a large aircraft carrier. The final action scene is one of the most exciting and at the same time, ridiculous scenes I've seen in a film. We get a giant plane, containing several vehicles trying to take off, while Dom's crew is trying to stop it. The scene features cars hanging from a plane in the air, while fist fights ensue in and outside of the plane, along with gunfights. It almost seems like Lin had A.D.D while he was directing. The action is fast and furious, no pun intended. It will no doubt keep you on the edge of your seat.
Without spoiling it too much, stay in your seats for the credits. The surprise ending, had the theatre audience screaming and hollering in disbelief. It also lays the foundation for the next chapter in the wildly successful series.
All in all, Fast and Furious 6 does exactly what a summer movie should do. It entertains and makes going to the movies fun. It also leaves a heap of carnage, explosions, and wrecked cars in its rear view mirror. If you are looking for a non-stop adrenaline rush, which at times throws the laws of physics and common sense out the window, Fast and Furious 6 is the perfect ride for you.